This is the South Pacific Back Ribs recipe.
Yields 4 - 6 servings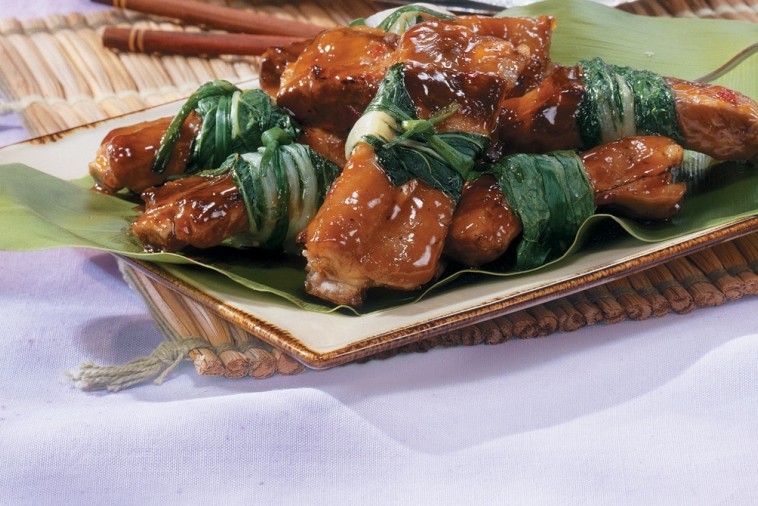 Ingredients
2 lbs (1 Kg) pork ribs sliced into single ribs
1 tbsp (15 mL) all-purpose flour
1 1/2 cups (375 mL) bottled Thai BBQ sauce
1/4 cup (60 mL) hoisin sauce
1 tbsp (15 mL) butter
1 tbsp (15 mL) sesame oil
Bok choy leaves or chives or green onions
Preparation
Preheat grill to medium. Sprinkle ribs with flour. Stir the Thai sauce with the hoisin sauce, butter and sesame oil. Take a rectangle of heavy-duty foil and seal on three sides to form a bag (or use a pre-prepared 'hot bag'). Pour sauce mixture into the bag set on a baking sheet. Add ribs in a single layer. Seal bag tightly.
Slide bag from baking sheet onto grill and cook, flipping every 15 minutes for 65 minutes. Wearing oven mitts, cut bag open. Wrap two ribs with a strip of bok choy and fasten with a chive. Repeat for remaining ribs.
Tips
Learn more about
Nutrition
Nutritional Information
per serving
Energy:

631 Calories

Protein:

34 g

Carbohydrate:

16 g

Fat:

47 g

Calcium:

4 % /

35 mg

Fibre:

0.4 g

Sodium:

585 mg