Spicy Canapés with Shrimp and Grilled Red Pepper
This is the Spicy Canapés with Shrimp and Grilled Red Pepper recipe.
Prep: 15 min
Cooking: 5 min - 10 min
Yields 24 canapés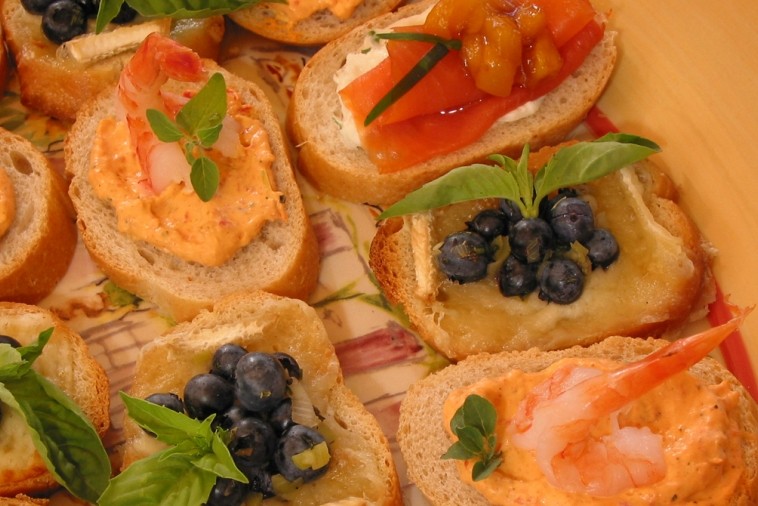 Ingredients
3/4 cup (180 mL) water
1/4 cup (60 mL) white wine
Juice of one lemon
1 lb (450 g) shrimp peeled and deveined
Spread
1 cup (250 mL) Canadian Ricotta cheese
1 1/2 cups (375 mL) grilled red bell pepper roughly chopped
1 green onion roughly chopped
1 hot pepper grilled and de-seeded or a few drops hot pepper sauce
1 tbsp (15 mL) your choice of fresh herbs (basil, chive, thyme, oregano, parsley.)
Salt and freshly ground pepper to taste
About 24 slices of fresh bread or toasted bread
Zest of one lemon
Preparation
In a pan, combine water, wine and lemon juice. Bring to the boil and season generously. Cook the shrimp in this liquid (known as a 'court-bouillon') 5 min or until pink and then cool quickly without rinsing. Set aside 1/4 cup (60 mL) of court-bouillon.
Puree all the spread ingredients including the Ricotta cheese in a food processor, mix in the herb and season. If the mixture is too thick, add the reserved court-bouillon.
Top each bread slice with a little of the spread, or spread it with a knife. Add a shrimp, garnish with lemon zest and a sprig of fresh herb.
Refrigerate until you are ready to serve canapés.
Véronique Gagnon-Lalanne, chef
Tips
Learn more about