Sticky Maple-Walnut Coffee Cake
This is the Sticky Maple-Walnut Coffee Cake recipe.
Prep: 15 min
Cooking: 45 min
Yields 12 servings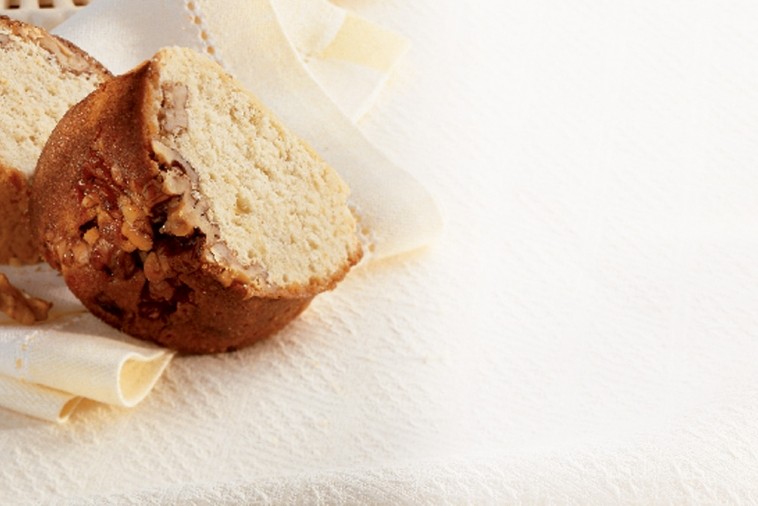 Ingredients
4 egg yolks
2/3 cup (160 mL) sour cream
1 tsp (5 mL) vanilla extract
1 cup (250 mL) large walnut halves
2 cups (500 mL) Five Roses Cake and Pastry Flour
1 cup (250 mL) sugar
1 tsp (5 mL) finely grated orange rind (optional)
1/2 tsp (2 mL) baking powder
1/2 tsp (2 mL) baking soda
1/2 tsp (2 mL) ground allspice
A pinch of salt
3/4 cup (180 mL) butter softened
1/3 cup (80 mL) maple syrup
Preparation
Combine egg yolks, 1 tbsp (15 mL) of the sour cream and the vanilla. Set aside.
Preheat oven to 350 °F (180 °C). Butter a 10-inch (25 cm) Bundt pan and sprinkle with walnuts.
Mix together flour, sugar, orange rind (if using), baking powder, baking soda, allspice and salt. Add butter and remaining sour cream and beat, using an electric mixer, on low speed until the dry ingredients begin to clump. Increase speed to high and beat for 1-1/2 minutes. Add egg mixture, beating well.
Scrape batter into prepared pan; smooth surface of batter. Bake in preheated oven for about 45 minutes or until tester inserted in centre comes out clean. Let cool cake in pan on wire rack for 10 minutes. Remove from pan and brush maple syrup over top of cake. Let cool on rack.
Tips
Learn more about