Stir Fry Chicken with Almonds
This recipe is taken from the 1991 Milk Calendar. This is the Stir Fry Chicken with Almonds recipe.
Prep: 10 min
Cooking: 10 min
Yields 4 - 5 servings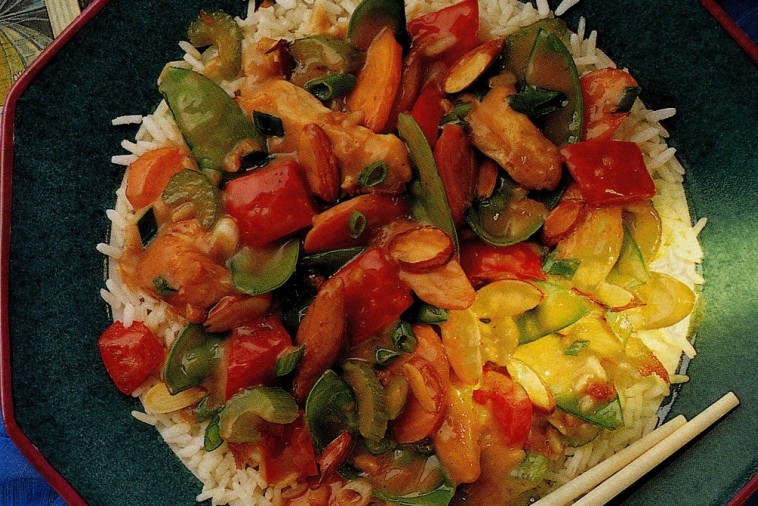 Ingredients
3/4 cup (180 mL) Milk
1/2 cup (125 mL) chicken broth
1 1/2 tbsp (20 mL) cornstarch
1 tbsp (15 mL) hoisin sauce
1 tbsp (15 mL) soy sauce
1/4 tsp (1 mL) Tabasco sauce optional
2 tbsp (30 mL) vegetable oil
1 lb (450 g) chicken breasts cut into 1-inch (2 1/2 cm) pieces
2 garlic cloves minced
1 tbsp (15 mL) fresh ginger grated
3 green onions chopped
2 stalks of celery sliced
1 large carrot sliced
1 red bell pepper cut into 1-inch (2 1/2 cm) pieces
1 cup (250 mL) snow peas trimmed
1/4 cup (60 mL) roasted slivered almonds
Preparation
Combine milk with chicken broth and cornstarch. Stir in hoisin, soy, and Tabasco sauces. Reserve.
Heat oil in a wok or large skillet. Add chicken, garlic, ginger and green onions. Stir fry 1 to 2 min until chicken loses its raw appearance.
Add celery, carrot and red bell pepper. Stir fry 4 to 6 min until tender crisp. Add snow peas. Cook 2 to 4 min longer.
Stir milk mixture. Add to pan. Cook until liquid just reaches the boil and thickens. Taste and adjust seasoning if necessary. Sprinkle with toasted almonds. Serve with rice.
Tips
To toast almonds, spread on a cookie sheet. Bake in a preheat 350 °F (180 °C) oven 4 to 5 min.
Learn more about