Stove-Top Chicken Noodle Casserole
This recipe is taken from the 2003 Milk Calendar. Nothing says home cooking like a casserole. The added pesto in this recipe gives a boost of terrific flavour and puts a contemporary spin on an old-fashioned family favourite.
Prep: 10 min
Cooking: 25 min
Yields 4 servings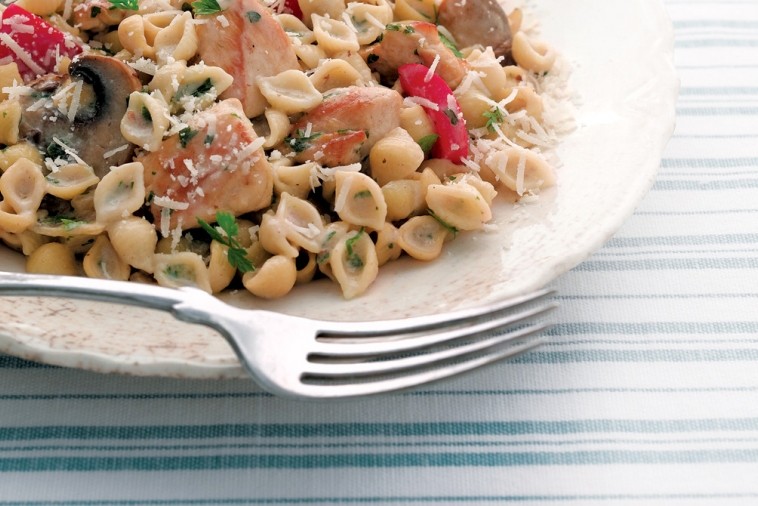 Ingredients
2 tbsp (30 mL) olive oil
1 lb (450 g) boneless skinless chicken breasts or chicken thighs cut in chunks
2 cups (500 mL) sliced mushrooms
1 medium onion chopped
1 tsp (5 mL) salt
1/2 tsp (2 mL) pepper
2 tbsp (30 mL) all-purpose flour
4 cups (1 L) Milk
2 cups (500 mL) baby shells or other small pasta (8 oz/250 g)
1/2 cup (125 mL) pesto
1 red bell pepper diced
Preparation
In large pot heat half the oil over medium-high heat, brown chicken on all sides, in batches, adding more oil as necessary; transfer to bowl. Add remaining oil to pot, cook mushrooms, onion, salt and pepper, stirring for 5 min or until softened, adding up to 2 tbsp (30 mL) water if necessary to prevent burning.
Whisk flour into milk; gradually stir into pot and bring to boil, stirring to scrape any bits stuck to pot. Stir in pasta and chicken with any accumulated juices.
Cover, reduce heat and simmer for 10 min or until pasta is almost tender and chicken is no longer pink. Stir in pesto and red bell pepper; cook, uncovered for 5 min or until pasta is tender and sauce is thickened. Season with salt to taste.
Tips
If prepared pesto isn't available, substitute 1/2 cup (125 mL) chopped fresh basil, 2 cloves garlic, minced and 1/4 cup (60 mL) freshly grated Canadian Parmesan cheese.
 For the Adventurous: Stir in 1/4 cup (60 mL) chopped drained oil-packed sun-dried tomatoes and 1/4 cup (60 mL) black olives with pesto. Sprinkle with 1/2 cup (125 mL) shredded Canadian Asiago cheese and broil until golden.
Healthy Eating Tip: Build your Bones - Each serving of this recipe contains a serving of milk. Milk has 6 bone-building nutrients - calcium, phosphorus, vitamin D, vitamin A, magnesium and protein.
Learn more about
Nutrition
Nutritional Information
per serving
Energy:

601 Calories

Protein:

47 g

Carbohydrate:

68 g

Fat:

15 g

Calcium:

35 % /

349 mg

Fibre:

3 g

Sodium:

789 mg