This summer enjoy strawberry semifreddo made with Canadian dairy products. This fresh and sweet recipe makes for the perfect summer treat!
Prep: 40 minutes
Cooking: 15 minutes
Yields 8 servings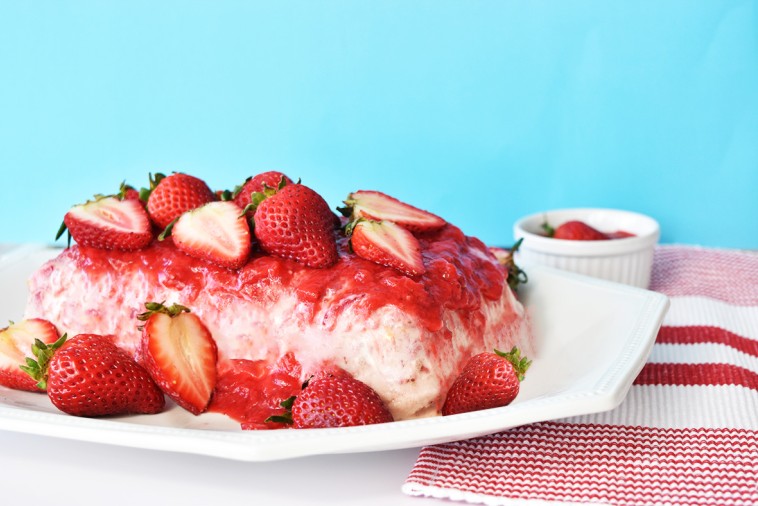 Ingredients
6 cups (1.5 L) fresh strawberries, stemmed and halved, divided
Strawberry Compote
1/3 cup (80 ml) liquid honey
1 tbsp (15 ml) lemon juice
2 tsp (10 ml) lemon zest
1/8 tsp (1 ml) salt
Semifreddo
3/4 cup (180 ml) Canadian heavy cream (35% m.f.), cold
1 tsp (5 ml) vanilla extract
3/4 cup (180 ml) granulated sugar
1 tbsp (15 ml) lemon zest
1/4 cup (60 ml) water
4 large eggs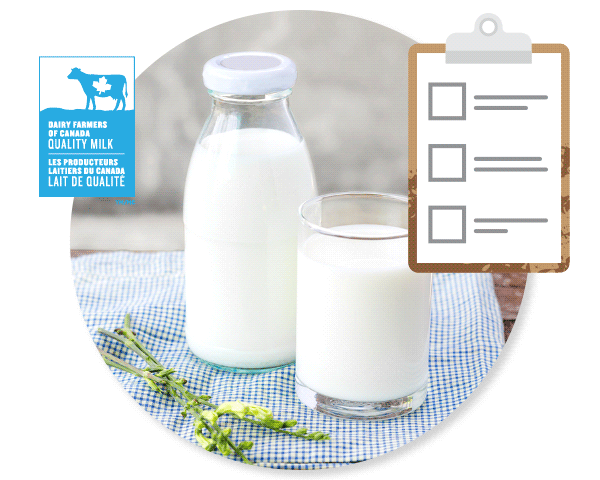 DID YOU KNOW?
When you see the Blue Cow Logo on a product, it means it's made with 100% Canadian quality milk that meets some of the highest standards in the world.
Learn More
Preparation
Compote
Mash 4 cups (1 L) of strawberries until roughly pureed. Transfer strawberries to a saucepan. Add honey, lemon juice, lemon zest, and salt. Bring to a boil over medium heat. Cook until thickened, then transfer to a bowl and let cool in the fridge.
Semifreddo
Line a 9 x 5 x 3-inch loaf pan with plastic wrap or parchment paper, leaving an overhang of several inches on all the ends. Chill the pan in the freezer.
Pour the cold Canadian heavy cream and vanilla extract into a bowl and whip the cream at high speed until soft peaks form, about 4 minutes.
In a small saucepan, combine the sugar, lemon zest and water. Bring to a simmer over medium heat, then cook, stirring occasionally, until the sugar is completely dissolved, 3 to 4 minutes.
In another large mixing bowl, beat the eggs on medium speed until foamy, about 1 minute. With the mixer running, slowly add the hot sugar syrup into the eggs in a thin stream. Continue beating until the mixture is very light and fluffy and feels cool to the touch, 8 to 10 minutes.
Gently fold the chilled whipped cream into the cooled egg-syrup mixture.
Fold the chilled strawberry puree and 1 cup stemmed and halved strawberries into the whipped cream and cooled egg-syrup mixture. Reserve ¼ of the puree.
Remove the prepared loaf pan from the freezer. Ladle the mixture into the pan. Cover securely with the overhanging plastic wrap or parchment paper, and return to the freezer. Freeze until set, at least 8 hours, preferably overnight.
Unwrap the top of the loaf pan. Invert onto a serving plate, lift off the pan and remove the plastic wrap or parchment paper.
Top the semifreddo with remaining strawberry puree, and 1 cup stemmed and halved strawberries. Cut into slices and serve immediately. Enjoy!
Tips
This recipe contains raw eggs and must be consumed with caution
Well-wrapped semifreddo will keep frozen for up to 1 month. The Strawberry Compote will keep refrigerated in an airtight container for up to 5 days.
Semifreddo melts very quickly, so ensure to serve right away after removing it from the freezer.