Tiramisu with a Difference (Tiramisu differente)
This is the Tiramisu with a Difference (Tiramisu differente) recipe.
Prep: 15 min
Cooking: 11 min - 20 min
Refrigeration: 1 h
Yields 4 servings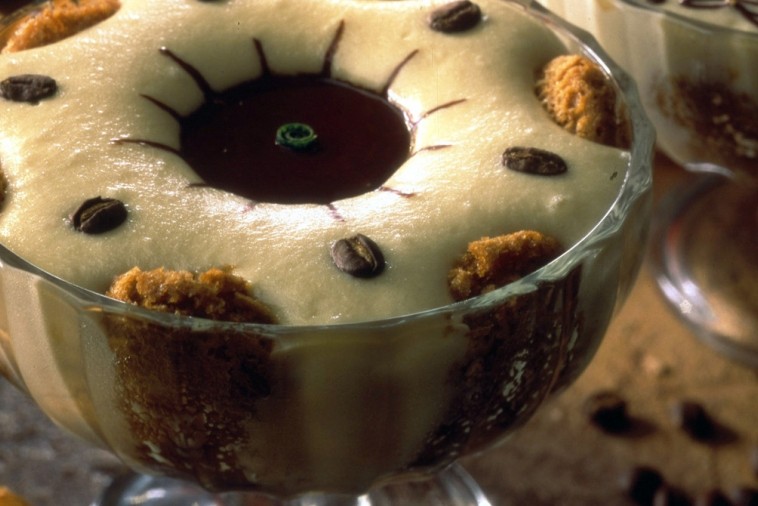 Ingredients
8 oz (250 g) Canadian Mascarpone cheese
3 egg whites
1/2 cup (125 mL) icing sugar
1 cup (250 mL) expresso coffee
1/3 cup (80 mL) rum
12 savoiardi cookies or ladyfingers cut in 2
2 oz (60 g) sweet chocolate
Chilled Zabaglione
6 egg yolks
2/3 cup (160 mL) sugar
of salt
1/2 cup (125 mL) Sherry or port
Preparation
In bowl, fold Canadian Mascarpone cheese in chilled zabaglione with spatula.
In another bowl, beat egg whites until stiff but not dry, gradually beating in icing sugar. Fold in Canadian Mascarpone mixture.
In small bowl, mix coffee with rum. Soak cookie halves in coffee mixture and place 2 halves in each dessert cup. Layer Canadian Mascarpone mixture and cookies. Repeat with all remaining Canadian Mascarpone mixture and cookie halves, topping desserts with mascarpone mixture. Chill. Before serving, melt chocolate in double boiler and pour over tiramisu. Serve immediately.
In top of a double boiler, whisk egg yolks until creamy. Gradually beat in sugar. Stir in salt and sherry. Place top of double boiler over simmering water. Whisk constantly for 6 to 7 minutes, until mixture thickens. Remove top saucepan from heat and whisk egg mixture for another 5 minutes. Pour in a container, cover with wax paper and refrigerate.
: This recipe contains raw or lightly cooked eggs. Foods containing raw or lightly cooked eggs may be harmful to vulnerable people such as young children, the elderly, pregnant women and people with weak immune systems.
Tips
Learn more about