White Chocolate Crème Brûlée
This is the White Chocolate Crème Brûlée recipe.
Prep: 15 min
Cooking: 35 min - 40 min
Refrigeration: 4 h
Yields 8 servings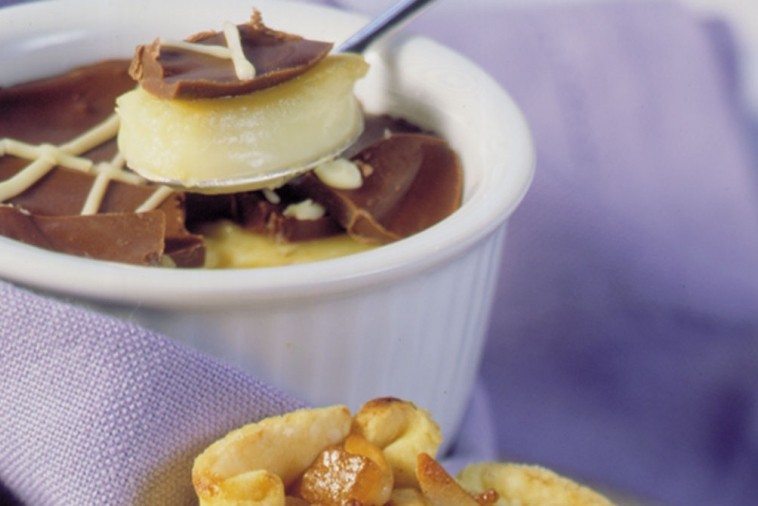 Ingredients
2 1/2 cups (625 mL) 35 % whipping cream
1/2 cup (125 mL) sugar
5 Squares (5 oz/150 g) Baker's white chocolate chopped
6 egg yolks
1 tsp (2 mL) vanilla extract
3 Squares (3 oz/90 g) Baker's bittersweet or semi-sweet chocolate chopped
1 square (1 oz/30g) Baker's white chocolate melted (optional)
Preparation
Rinse heavy saucepan with cold water and shake out excess moisture. Set pan over medium-low heat and stir in cream and sugar; heat until bubbles form around edge. Add chopped white chocolate, stirring until smooth. Remove from heat.
In bowl, whisk egg yolks with vanilla extract. Whisk in cream mixture. Pour into eight 1/2-cup (125 mL) ramekins or custard cups. Place ramekins in baking pan; pour in enough boiling water to come halfway up sides of dishes.
Bake in 300 ºF (150 ºC) oven for 35 minutes or until set around edges but still soft in centre. Remove ramekins; refrigerate for at least 4 hours or until chilled.
Place bittersweet chocolate in microwavable bowl; microwave on Medium for about 1 minute; stir until melted and smooth. Spoon onto top of custards; spread to edges using back of spoon. Refrigerate until chocolate is firm, about 15 minutes. If desired, drizzle tops with melted white chocolate.
Tips
Learn more about