Highlights
Biomethanization technology is a burgeoning industry in Canada.
Dairy farmers are uniquely positioned to take advantage of renewable energy, with ready access to manure and crops that can be turned into biofuels.
Additional benefits include creating nutrient-rich fertilizer that is more bioavailable than traditional fertilizers and is made entirely in-house.
Biomethanization technology is a burgeoning industry in Canada. As dairy farmers commit to reaching net-zero greenhouse gas (GHG) emissions by 2050, incorporating biodigesters onto the farm is an opportunity to do good for the environment while sourcing additional revenue. Stanton Farms, pictured above, is a pioneer in this field. As of October 2022, the Ontario dairy farm has become the province's first agricultural-based renewable natural gas (RNG) supplier, helping decarbonize Canada's natural gas supply. By converting community-based and on-farm organic waste into biogas, Stanton Farms will provide over three million cubic metres of RNG per year to the Ontario natural gas network, enough renewable energy for the heating needs of over 1,300 homes. Stanton Farms has been supplying its local community with renewable electricity for a decade, after installing Canada's first on-farm anaerobic digestion system. The farm also sells its biogas to B.C. energy provider Fortis.
"Across the country, dairy farmers, such as the Stantons, are reducing the environmental footprint of their cattle, their barns, their equipment and their fields," said Francis Drouin, parliamentary secretary to the minister of Agriculture and Agri-food. "This is the way of the future for Canada's dairy industry and our entire agriculture and food sector."
With its new RNG facility, Stanton Farms will be diverting 60,000 tonnes of community-based organic waste per year from landfill, reducing methane release into the atmosphere, a major source of GHG emissions. The facility will eliminate over 11,000 tonnes of GHG per year, equivalent to taking over 2,200 passenger vehicles off the road.
Elsewhere in Ontario, Clovermead Farms got its biodigester off the ground thanks to grants from the Ontario government's Green Energy Act. Korb Whale, farmer and owner of Clovermead Farms, invested more than $2 million in capital on his anaerobic biodigester in 2009 before landing a contract to sell electricity back to the grid. "I've always liked the concept of being able to produce power with a waste product on farm," says Whale. "We're reducing our greenhouse gas waste by almost 95 per cent." 
In addition to manure from his farm, Clovermead's digester takes in approximately 8,000 tonnes a year of food waste from local producers and processors. Whale's farm also generates additional revenue by taking in this food waste while lowering its own carbon footprint.
"I think that's one of the exciting things about anaerobic digestion in general, the circular nature of that economy," Whale says. "We're producing food that we send to the cities of the processors to make food for people, the waste from that food comes back to our digester, creates electricity, creates heat, creates fertilizer and it creates bedding [for cows], so that loop gets completed."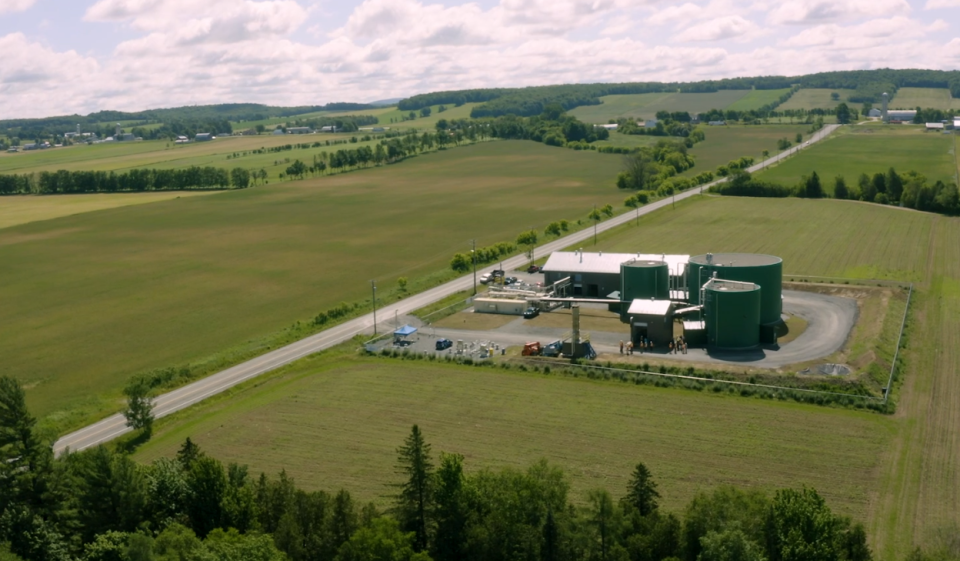 Over in Quebec, an innovative biogas project launched by sharing the costs – and revenues – among 12 local agricultural producers and one cheese processor. Coop Agri-Énergie Warwick is now selling biogas back to the Énergir gas network, the main gas distributor in Quebec.
Josée Chicoine, director of agrifood development at Coop Carbone, a non-profit with a mission to act on climate change through collaboration, is co-general manager of Coop Agri-Energie Warwick. She says the project's backers observed that many farmers were interested in biomethanization but were unable to implement it on their farms. Not only does the Warwick project allow several smaller farmers to share in the cost, it also generates a whole new revenue stream from energy production.
Complex challenges – like climate change – require innovative solutions, and we salute all those pursuing biomethanization projects in their communities!