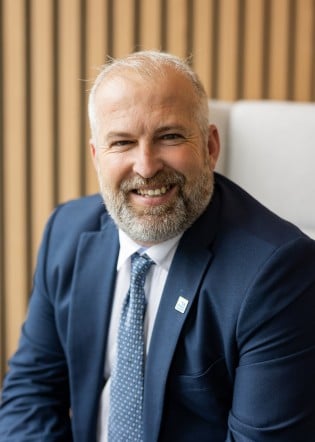 Daniel Gobeil
Vice-President
Daniel Gobeil has been elected Vice-President of Dairy Farmers of Canada in September 2023.
Daniel Gobeil is also president of the Producteurs de lait du Québec since May 2020 in addition to being president of the board of directors of the Producteurs de lait du Saguenay–Lac-Saint-Jean. Before occupying this position, Mr. Gobeil was 1st vice-president of the organization as of December 2017. His involvement with the PLQ dates back to 2007.
A trained agronomist, Daniel Gobeil is the owner of Ferme du Fjord, originally acquired by his grandfather. Although there is no shortage of work, the family structure of the farm, involving three generations, allows him to free up enough time to get involved in several committees and with various organizations.
The Fjord farm in La Baie has 200 head, including 125 lactating cows. In addition to the forage needs for the herd, field crops such as barley, oats and soybeans are grown on an area of ​​more than 1000 acres.