Perfectly crispy on the outside. Soft and fluffy on the inside. Our twist on traditional churros uses an airfryer for ease and Canadian milk products that meet some of the highest standards in the world!
Prep: 10 minutes
Cooking: 15 minutes
Yields 6 servings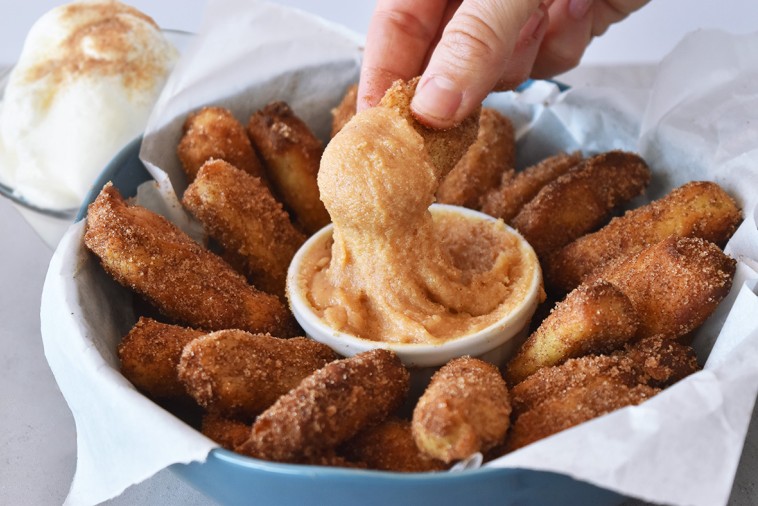 Ingredients
Air Fryer Churros
1 cup (250 ml) all purpose-flour
1 cup (250 ml) water
⅓ cup (80 ml) Canadian unsalted butter
1 tsp (5 ml) salt
2 tbsp (30 ml) granulated sugar
1 tsp (5 ml) vanilla extract
1 large egg
1 tbsp (15 ml) Canadian unsalted butter, melted
Cinnamon-Sugar Coating
1 cup (250 ml) granulated sugar
1 tbsp (15 ml) cinnamon, ground
Serve with
Dulce de leche
Canadian vanilla ice cream
DID YOU KNOW?
When you see the Blue Cow Logo on a product, it means it's made with 100% Canadian quality milk.
LEARN MORE
Preparation
Preheat the air fryer to 375°F and grease the air fryer basket with Canadian butter.
In a large pan, combine water, butter, salt, and sugar. Over high heat, bring the mixture to a boil.
Once boiling, turn off the heat and gradually add in the flour while mixing until a dough comes together.
Transfer the dough from the pan to a large mixing bowl and allow it to cool for 5 minutes.
After cooling, add the egg and vanilla extract to the dough and mix using a handheld mixer or standing mixer.
Transfer the dough to a piping bag. If you do not have a piping bag, you can use a plastic sandwich bag and cut one of the corners off the bag, or simply drop the batter by spoonfuls into the air fryer basket.
Pipe bite-sized churros (about 1 inch) into the air fryer basket, making sure not to overcrowd. Cook in several batches.
Brush top of churros with the melted butter. Cook for 10-12 minutes until golden brown. Repeat for the rest of the dough.
While the churros cook, mix the sugar and cinnamon together in a large bowl.
Once all the churros are cooked, transfer them into the sugar and cinnamon mixture, toss until evenly coated, and set aside to cool.
Serve the churros with Dulce de Leche and Canadian vanilla ice cream.
Tips
If the cinnamon sugar mixture doesn't stick well to the churro bites, brush them with a bit more melted butter and then toss them again in the cinnamon sugar mixture.
Dip your churros in our delicious Dulce de Leche! 
Learn more about