This is the Brie Soup recipe.
Prep: 15 min
Cooking: 25 min
Yields 6 servings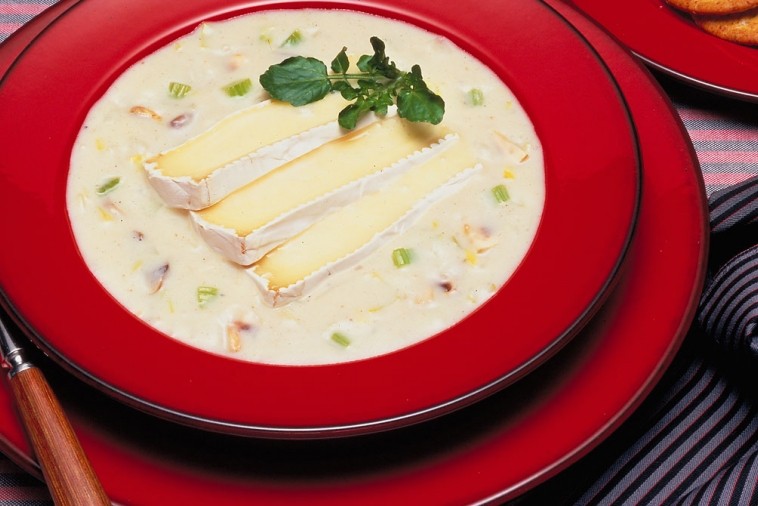 Ingredients
1 cup (250 mL) diced leeks white only
2/3 cup (160 mL) diced celery
1/2 cup (125 mL) minced Spanish onion
1/4 cup (60 mL) butter
1/2 tsp (2 mL) dried thyme
1/2 tsp (2 mL) ground nutmeg
Salt and pepper to taste
1/3 cup + 1 tbsp (90 mL) all-purpose flour
4 cups (1 L) Milk
1 3/4 cups (430 mL) sliced white mushrooms
9 oz (270 g) Canadian Brie cheese in 18 slices
Preparation
In a large pot, sauté leeks, celery and onion in butter on medium-low heat for about 3 minutes or until transparent. Stir in seasonings.
Stir in flour until well blended. Gradually add milk and stir constantly until soup thickens. Stir in mushrooms and simmer for 10 minutes.
With a ladle, distribute soup evenly into 6 oven-proof bowls. Top each with 3 slices of Canadian Brie cheese. Place under the oven broiler until cheese is melted. Serve immediately.
Tips
Nutrition
Nutritional Information
per serving
Energy:

367 Calories

Protein:

17 g

Carbohydrate:

20 g

Fat:

25 g

Calcium:

27 % /

297 mg