This is the Californian Gazpacho recipe.
Prep: 10 min
Refrigeration: 2 h
Yields 6 servings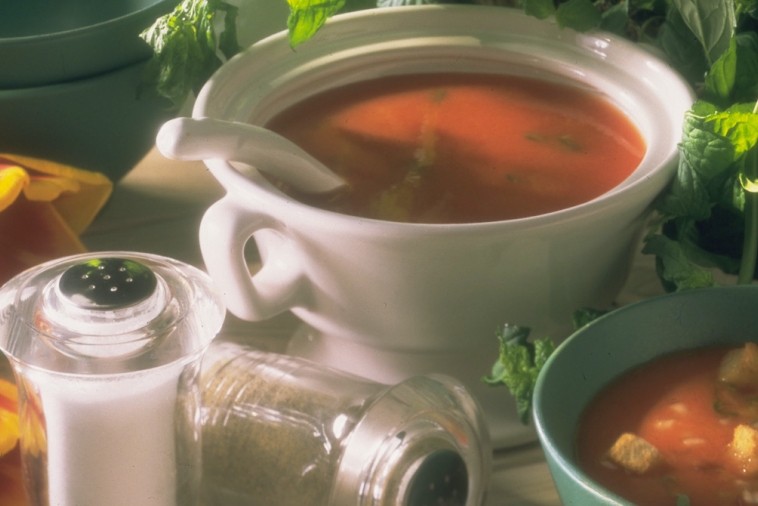 Ingredients
1 lb (450 g) fresh tomatoes (2 to 3)
1 English cucumber peeled, sliced and seeded
1 medium onion
1 grilled bell pepper
7 cups (1.75 L) tomato juince or vegetable juice
1 cup (250 mL) 10 % cream or 15 % or 18 % table cream
1/2 cup (125 mL) chopped fresh coriander
1/3 cup (80 mL) wine vinegar
1/4 cup (60 mL) olive oil
2 tbsp (30 mL) Dijon mustard
A dash of Tabasco sauce
Salt and pepper to taste
Preparation
In blender or food processor, purée 1 tomato, half cucumber and half onion. Pour purée into soup tureen. Add juice, cream, coriander, vinegar, oil and mustard. Mix well. Season to taste with salt and pepper. Add a dash of Tabasco sauce.
Seed remaining tomatoes and dice. Chop remaining cucumber and onion. Stir vegetables into soup mixture. Chill for 2 hours before serving.
Garnish with a sprinkle of chopped fresh vegetables, croutons and some ice cubes.
Tips
Learn more about
Nutrition
Nutritional Information
per serving
Energy:

218 Calories

Protein:

6 g

Carbohydrate:

25 g

Calcium:

10 % /

111 mg

Fat:

13 g

Fibre:

4.2 g

Sodium:

1184 mg