This hot cheesy dip is sure to be a hit at any gathering. Enjoy with your favourite dipper.
Prep: 5 minutes
Cooking: 20 minutes
Yields About 5 cups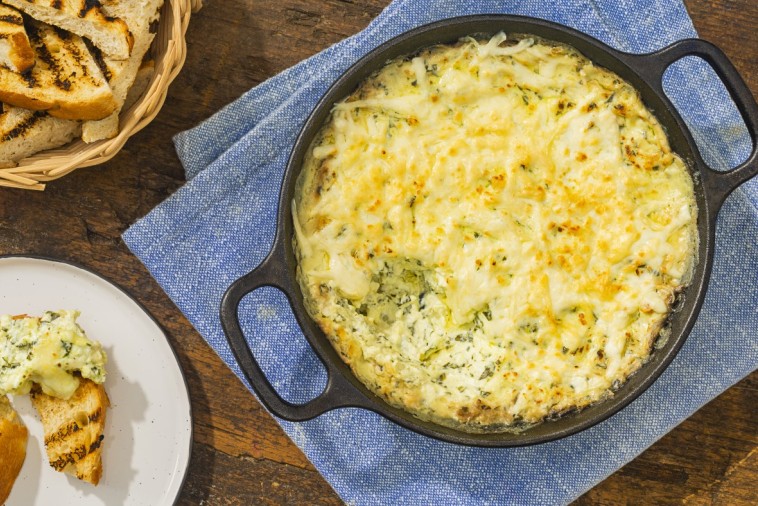 Ingredients
1 cup (250 ml) finely chopped spinach
1 block (250 g) Canadian cream cheese
1 cup (250 ml) Canadian sour cream
2 tbsp (30 ml) mayonnaise
2 cloves fresh minced garlic (or 1 tbsp (15 ml) garlic powder)
2 tsp (10 ml) finely chopped fresh onion (or dry minced onion)
1 cup (250 ml) grated Canadian parmesan cheese (or parmesan flakes)
1 ¼ cups (310 ml) Canadian mozzarella or aged cheddar cheese (divided to 3/4 cup (185 ml) and 1/2 cup (125 ml))
1 tbsp (15 ml) Canadian butter to grease the baking dish
fresh finely chopped parsley or dried parsley to sprinkle on top
DID YOU KNOW?
When you see the Blue Cow Logo on a product, it means it's made with 100% Canadian quality milk.
LEARN MORE
Preparation
Preheat oven to 400 °F (200 °C)
Blend cream cheese, sour cream, mayonnaise & chopped spinach together until smooth
Transfer into a buttered, oven safe dish
Stir in garlic, onion & parmesan cheese
Grate 3/4 cup cheese of choice and continue to stir into the mixture
Grate 1/2 cup more cheese for the top of the dip
Bake approximately 20 min. until bubbly and browned on the edges
Serve with naan bread, tortilla chips, warm baguette, pretzels, or crackers of choice