Cheesy Pie with Peach Strawberry Compote
This is the Cheesy Pie with Peach Strawberry Compote recipe.
Prep: 15 min
Cooking: 1 h - 1 h 6
Refrigeration: 30 min
Yields 6 - 8 servings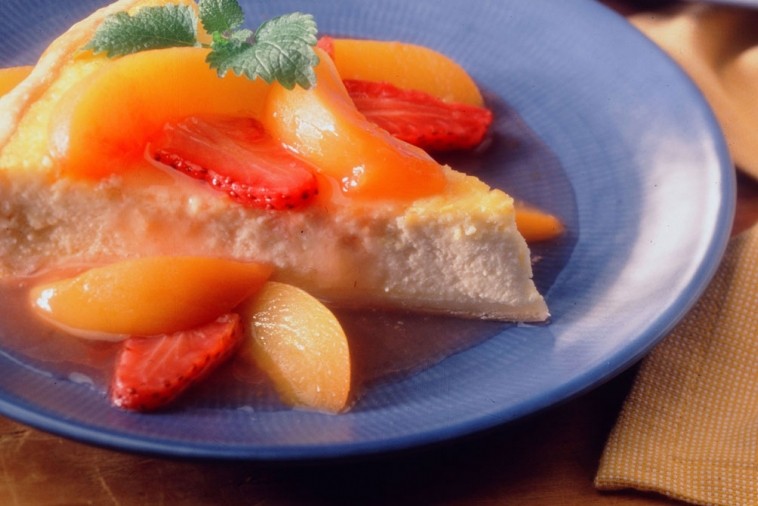 Ingredients
1 sweet crust
2 cups (500 mL) Canadian Cottage cheese
1 pkg (8 oz/240 g) Canadian Cream cheese
1/3 cup (80 mL) sugar
1/3 cup (80 mL) maple syrup
5 eggs
1 cup (250 mL) cream 35 %
1 tsp (5 mL) vanilla extract
1 can (19 oz/540 mL) peaches in juice
1 cup (250 mL) fresh strawberries hulled and cut into half
Sweet Crust (2 crusts)
1 2/3 cups (410 mL) all-purpose flour
1/3 cup + 1 tbsp (100 mL) softened butter
3 tbsp (45 mL) sugar
1 egg yolk
of salt
3 tbsp (45 mL) cold water
Preparation
Preheat oven to 350 °F (180 °C).
Fit sweet crust into buttered pie plate and set aside. In large bowl, blend Canadian Cottage cheese with Canadian Cream cheese with electric mixer, or in food processor. Add sugar and maple syrup. Mix well. Beat in eggs, one at a time. Stir in cream and vanilla. Mix until smooth.
Pour cheese mixture in pie crust and bake for 1 hour or until toothpick inserted in centre comes out clean. Remove from heat and let cool.
Meanwhile, in saucepan, bring to boil peaches in juice and simmer over medium-low heat for 5 minutes. Add strawberries and cook for 1 minute. Remove from heat and let stand. Serve pie with peach strawberries compote.
In large bowl, cut butter in flour with fork. Make well in centre and pour in remaining ingredients. Toss with fork and work until smooth. Gather dough together and form into ball. Divide pastry ball in 2 and wrap separately in plastic wrap. Refrigerate for 30 minutes before rolling out. On floured surface, roll out one ball with rolling pin to fit pie plate. Freeze remaining pastry.
Tips
Nutrition
Nutritional Information
per serving
Energy:

509 Calories

Protein:

16 g

Carbohydrate:

43 g

Fat:

31 g

Calcium:

10 % /

113 mg