Chicken Casserole with Canadian Monterey Jack (Cooking Club Size)
Serve this family favorite casserole with a crispy green salad and a glass of milk and dinner is complete.


Prep: 40 min
Cooking: 40 min - 50 min
Yields 12 servings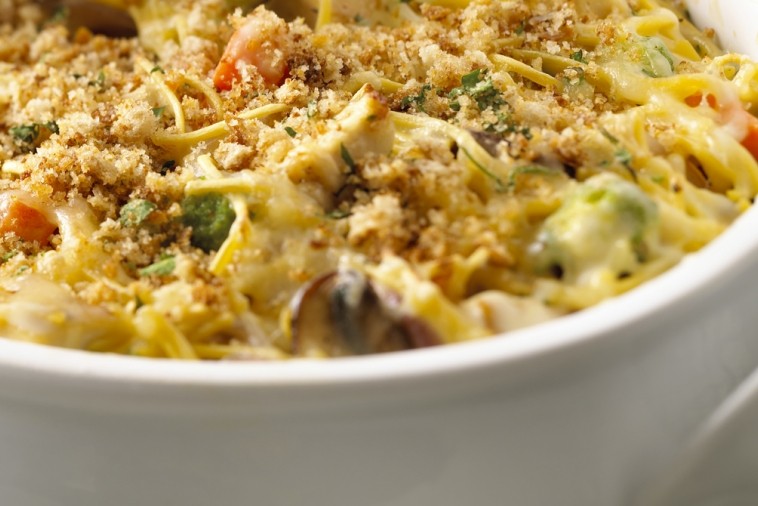 Ingredients
2 pkgs (12 1/2 oz/375 g each) fine egg noodles
2 lb (1 Kg) frozen mixed vegetables
2 tbsp (30 mL) butter
7 1/2 oz (225 g) cremini mushrooms or white mushrooms sliced
2 onions sliced
6 cups (1.5 L) shredded Canadian Monterey Jack cheese *
6 boneless, skinless chicken breasts cooked and diced
3 cans (19 oz/540 mL each) cream of chicken soup **
1 cup (250 mL) chopped fresh parsley
Salt and pepper to taste
Topping
2 cups (500 mL) plain bread crumbs
1/2 cup (125 mL) chopped fresh parsley
1/4 cup (60 mL) melted butter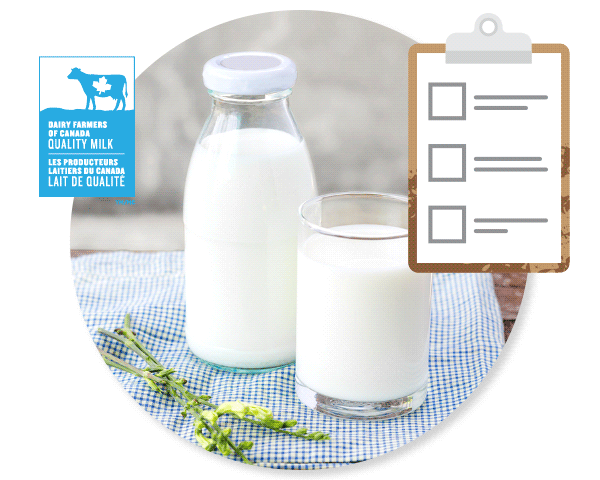 DID YOU KNOW?
When you see the Blue Cow Logo on a product, it means it's made with 100% Canadian quality milk that meets some of the highest standards in the world.
Learn More
Preparation
Preheat oven to 350°F (180 °C). Lightly butter three 3 7 x 11-in (18 x 28 cm) baking dishes.
To a stock pot of boiling salted water, add noodles and bring to a boil; boil 1 minute. Add frozen vegetables, cook stirring occasionally, for 5 minutes or until vegetables are tender; drain and transfer to a very large bowl.
In large skillet melt butter over medium heat; add mushrooms and onion. Cook stirring occasionally, for about 5 minutes or until onions have softened; add to noodles. To the noodle mixture add Canadian Monterey Jack cheese, diced chicken, chicken soup, parsley, salt and pepper to taste. Divide the noodle and chicken mixture among prepared baking dishes.
Topping:
In a medium bowl, combine bread crumbs, parsley and melted butter; sprinkle evenly over noodle dishes. Bake for 40 to 50 minutes or until topping is golden brown.
Tips
If you're short of time, purchase barbecued chicken from your grocery store; you will need 6 cups diced.
Replace the breadcrumbs with plain potato chips for an extra crunch. Simply crush 1 (250 g) bag plain potato chips and sprinkle on top of the casserole dishes before baking. To freeze this dish, reserve the chips or the breadcrumb topping and add to thawed casserole and bake.
For vegetarians omit the chicken and replace the cream of chicken soup with equal amounts of cream of mushroom soup.
Substitute 3 cans (170 g) drained water packed tuna for the cooked chicken and replace the cream of chicken soup with cream of mushroom soup or homemade béchamel sauce.
Cooking Club Tips:Refrigerate casseroles for up to two days. It is best to bake them just before serving. To serve; bake in preheated oven, uncovered for 60 minutes or until topping is golden brown and hot. Freeze without the topping.
Remember to wash and sanitize your hands, cutting boards, sink, all work areas and equipment with hot, soapy water before and after handling raw chicken.
 *You can use Canadian Cheddar, Canadian Gouda or Canadian Brick for this recipe.
 **If you can't find the large cans of ready to serve cream of chicken soup in your local grocery store, you can substitute 3 regular cans of condensed cream of chicken soup mixed well with 2 cans of milk.
Replace the cream of chicken soup with a homemade béchamel sauce. In a medium saucepan melt 1/3 cup (80 mL) butter. Remove from heat, with a wooden spoon mix in1/3 cup (80 mL) all-purpose flour. Return to heat; cook on medium heat until it bubbles and the mixture becomes crumbly. With a whisk, gradually add 4 cups/1 liter of 2 % milk, 1/2 tsp (2 mL) ground nutmeg and season with salt and pepper. Proceed with the recipe as above.
Learn more about