Enjoy the delicious taste of donair in a cheesy baked dip topped with shredded lettuce, diced onion, and tomato. Dip tortilla chips or baked pita slices.
Prep: 5 minutes
Cooking: 10 minutes
Baking: 20 minutes
Yields About 6 cups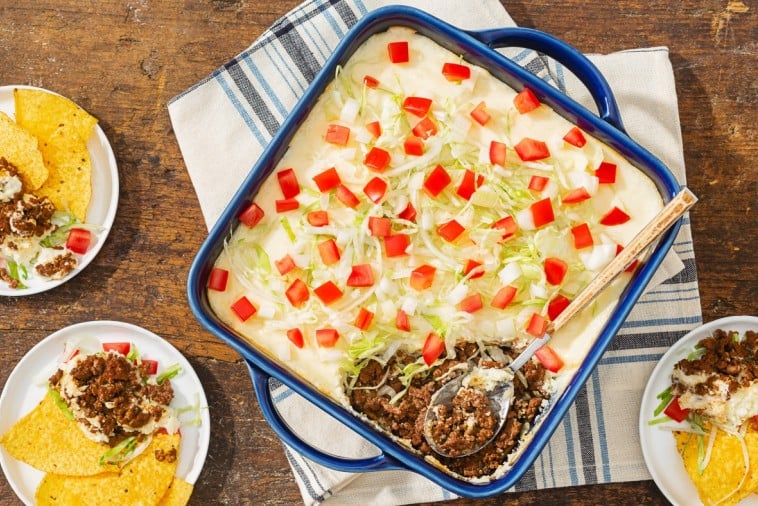 Ingredients
Donair Dip
1lb (450g) lean ground beef
1 tsp (5 ml) dried oregano
1 block (250 g) Canadian cream cheese
1 cup (250 ml) shredded Canadian old cheddar cheese (or cheese of your choice)
½ tsp (2,5 ml) cayenne pepper
2 tsp (10 ml) paprika
2 tsp (10 ml) garlic powder
2 tsp (10 ml) onion powder
1/2 tsp (2,5 ml) salt
1/2 tsp (2,5 ml) black pepper
1 cup (250 ml) donair sauce (see recipe below)
1/2 diced tomato (optional)
1/2 diced onion (optional)
1/2 cup (125 ml) shredded lettuce (optional)
Donair Sauce
1 can (300 ml) sweetened condensed Canadian milk
1/3 cup (80 ml) white vinegar
1 tsp (5 ml) garlic powder
DID YOU KNOW?
When you see the Blue Cow Logo on a product, it means it's made with 100% Canadian quality milk.
LEARN MORE
Preparation
Donair Sauce
Add all ingredients to a bowl and combine
Donair Dip
Preheat oven to 350 °F (180 °C)
Cook the ground beef and the spices together, mix well in frying pan
Mix the softened cream cheese, cheese and Donair sauce together
Place ground beef mixture on the bottom of 9"x9" cooking dish (or equivalent)
Add the cheese and Donair sauce mixture on top of the ground beef mix
Top with diced veggies after removing from oven (optional)
Serve hot or cold with tortilla chips or baked pita slices