This recipe is taken from the 1991 Milk Calendar. This is the Fiesta Chili recipe.
Prep: 10 min
Cooking: 30 min
Yields 4 - 6 servings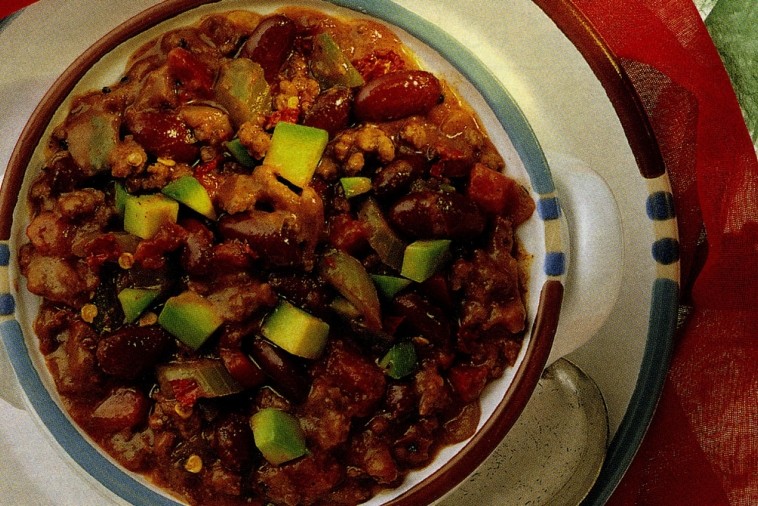 Ingredients
2 tbsp (30 mL) vegetable oil
2 large onions chopped
2 cloves garlic minced
2 tbsp (30 mL) chili powder
1 tbsp (5 mL) paprika
1/2 tsp (2 mL) dried oregano
Pinch of red chili flakes
1/2 lb (225 g) lean ground pork
1/2 lb (225 g) lean ground beef
1 red bell pepper diced
1 green bell pepper diced
2 ribs celery sliced
2 tbsp (30 mL) all-purpose flour
1 cup (250 mL) Milk
1 can (19 oz/540 mL) tomatoes drained
1/4 cup (60 mL) tomato paste
1 can (4 oz/110 g) diced green chilies
1 can (19 oz/540 mL) red kidney beans drained
Salt and pepper to taste
Garnish
3/4 cup (180 mL) sour cream or plain yogurt
3/4 cup (180 mL) shredded Canadian Cheddar cheese
1 ripe avocado diced
Preparation
Heat oil in a large skillet. Sauté onions and garlic until tender and fragrant. Add chili powder, paprika, oregano and hot red chili flakes. Cook 30 sec. Add pork and beef. Cook until meat loses its raw appearance. Drain off excess fat if necessary.
Stir in bell peppers, celery and flour. Cook 2 to 3 min. Stir in milk. Bring to a boil. Reduce heat, cover and cook gently 20 min.
Add tomatoes, breaking them up with a spoon. Stir in tomato paste, mild chilies and beans. Cook 10 min longer, uncovered, until chili thickens. Season with salt and pepper to taste. (If chili is too thin, simply cook, uncovered, over medium heat until desired thickness is reached). Serve over rice with a spoonful of sour cream. Garnish with shredded Cheddar and diced avocado.
Tips