This is the Gingerbread Date Loaves recipe.
Yields 3 small loaves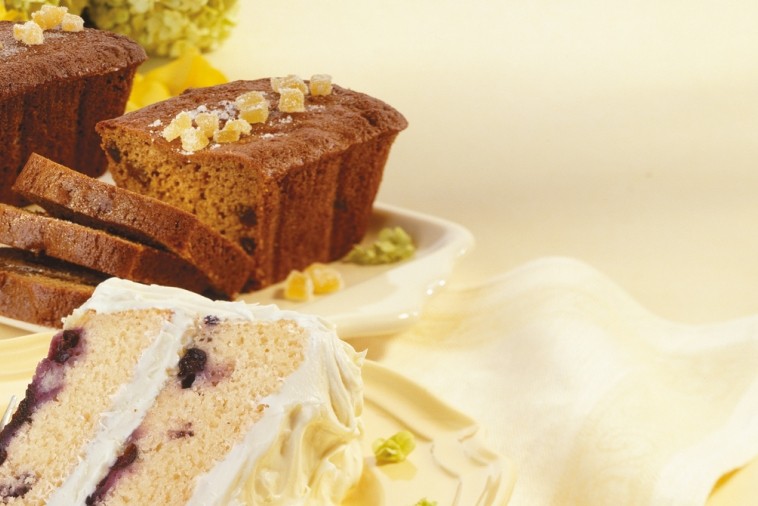 Ingredients
1 3/4 cups (430 mL) Five Roses All-Purpose flour
3/4 cup (180 mL) Five Roses Organic Whole Wheat flour
2 tsp (10 mL) baking powder
1 tbsp (15 mL) ground ginger
1/2 tsp (2 mL) cardamom
1/2 tsp (2 mL) baking soda
1/2 tsp (2 mL) salt
1/2 tsp (2 mL) ground nutmeg
1/2 tsp (2 mL) groun cinnamon
1/2 cup (125 mL) melted butter
1 cup (250 mL) brown sugar
1/2 cup (125 mL) molasses
2 eggs
3/4 cup (180 mL) warm Milk
1 1/4 cups (310 mL) chopped pitted dried dates or raisins
Preparation
Preheat oven to 375 °F (190 °C). Lightly butter 3 small Reynolds Redi Pan Loaf pans.
Combine flours, baking powder, ginger, cardamom, baking soda, salt, nutmeg and cinnamon in a bowl. Make a well in the dry ingredients.
Blend butter, brown sugar and molasses. Whisk in eggs, one at a time; pour in milk and mix well. Stir in dates. Pour egg mixture into well in dry ingredients and stir just until combined. Divide batter among prepared pans.
Bake for about 25 minutes, until a toothpick inserted in the centre of the loaf comes out clean. Cool in pans 5 minutes before turning out onto a cooling rack. Makes 3 mini loaves.
Tips
Use Reynolds Jumbo Baking Cups to make 12 muffins instead of loaves.
Nutrition
Nutritional Information
per serving
Energy:

386 Calories

Protein:

5 g

Carbohydrate:

73 g

Fat:

10 g

Calcium:

8 % /

81 mg

Fibre:

4 g

Sodium:

290 mg