High-Performance Pasta Salad
This is the High-Performance Pasta Salad recipe.
Prep: 15 min
Cooking: 10 min
Refrigeration: 10 min
Yields 4 servings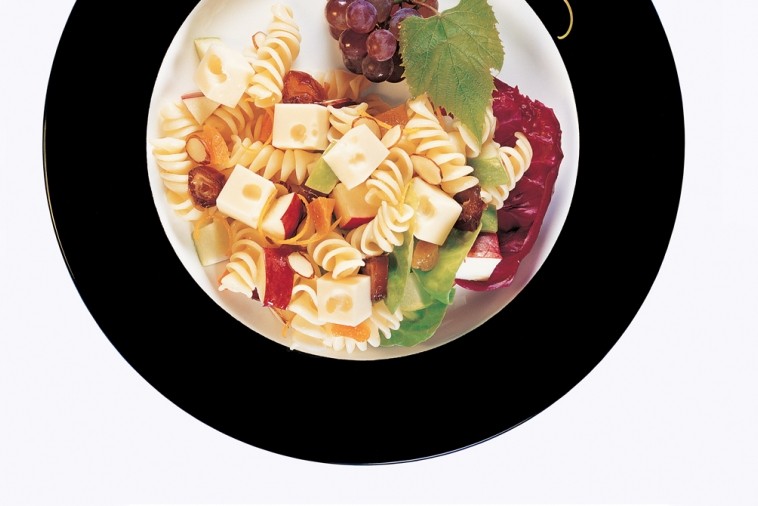 Ingredients
1 pkg (12-1/2 oz /375 g ) rotini
Dressing
1/3 cup (80 mL) orange juice
1/3 cup (80 mL) olive oil
1/4 cup (60 mL) rice vinegar
1 tsp (5 mL) zest of orange
1 tbsp (15 mL) liquid honey
1/2 cup (125 mL) chopped dried apricots
1/2 cup (125 mL) chopped dates
1/2 cup (125 mL) slivered almonds
1 apple unpeeled and diced
7 oz (210 g) Canadian Swiss-type cheese diced
Fresh mint to garnish
Preparation
In a saucepan, cook pasta according to package directions. Drain and rinse under cold water. Refrigerate for about 10 minutes.
Dressing:
whisk together orange juice, olive oil, rice vinegar, orange zest and honey, in a bowl.
Combine pasta, apricots, dates, almonds, apples and Canadian Swiss-type cheese. Add dressing and mix well. Serve garnished with fresh mint if desired.
Tips
Learn more about
Nutrition
Nutritional Information
per serving
Energy:

568 Calories

Protein:

18 g

Carbohydrate:

67 g

Fat:

26 g

Calcium:

33 % /

364 mg