Lemon & Herb Tzatziki with Stovetop Pitas and Chicken Skewers
This is a simple recipe to whip up on a warm summer night! Accompanied by grilled chicken skewers, stovetop flatbread, and extra cut up summer vegetables, this is sure to be a new hit for an easy 15 minute weeknight meal. Enjoy this summer's bounty with the most delicious tzatziki you have ever tasted.
Prep: 3-4 minutes (tzatziki) | 5 minutes (pitas) | 5 minutes (skewers)
Resting: 15 - 20 minutes (pitas)
Cooking: 3 - 4 minutes per pita | 8 - 12 minutes (skewers)
Yields 4 - 6 people | 8 -10 small pitas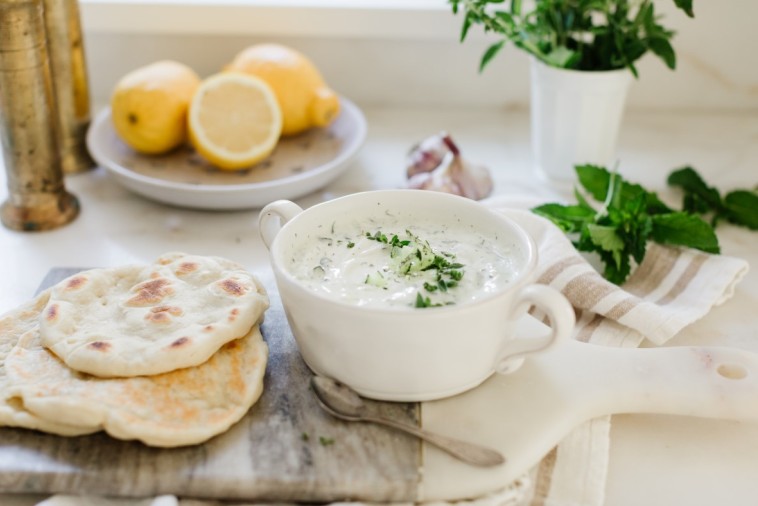 Ingredients
Tzatziki Sauce
250 ml (1 cup) of full fat Greek yogurt made from 100% Canadian milk
30-45 ml (2-3 tbsps) good quality olive oil
1 English or garden cucumber
1-2 cloves of garlic
Juice of one lemon
Handful of fresh oregano, finely chopped
Handful of fresh mint, finely chopped
5 ml (1 tsp) of dill
Salt + pepper to taste
Stovetop Pitas
325 ml (1 1/4 cups) warm water
1 tsp active dry yeast
45 ml (3 Tbsp) full fat Greek yogurt made from 100% Canadian milk
15 ml (1 Tbsp) olive oil
750 ml (3 cups) all purpose flour
7.5 ml (1 1/2 tsp) sea salt
Olive oil for cooking
Chicken Skewers
454 g (1 lb) chicken breast cut into 3 cm (1 inch) cubes
45 - 60 ml (3-4 tablespoons) of olive oil
Salt and pepper to taste
DID YOU KNOW?
When you see the Blue Cow Logo on a product, it means it's made with 100% Canadian quality milk.
LEARN MORE
Preparation
Tzatziki sauce
In a medium sized bowl measure in the Greek yogurt.
Using a garlic press, add in 1-2 cloves of garlic (however much you prefer).
Whisk in the olive oil and lemon juice. Feel free to add a bit of lemon zest too!
Using a cheese grater (the largest holes) grate the whole cucumber. If your cucumber is really watery you can express some of the water by placing it in a strainer and gently pressing down on the shredded cucumber.
Gently fold in the grated cucumber and fresh herbs. Season well with salt and pepper to taste.
Stovetop Pitas
In the bowl of your mixer add the water and whisk in the yeast, let sit for 5 minutes. 2. Add in the greek yogurt, olive oil, flour and salt. Need on medium speed for 3 minutes, cover and let stand for 20 minutes.
Preheat your cooking surface to medium high.
Portion off small pieces and stretch out into a thin pita.
Oil your desired cooking surface and place the stretched pita on it.
Cook each side for 2-3 minutes until golden brown.
Place on a plate or bowl and cover with a tea towel to keep soft and warm.
Chicken Skewers
Place the olive oil and salt and pepper in a large bowl.
Add the chicken and toss to coat.
Thread the chicken onto metal skewers or pre soaked wooden skewers.
Cook for 5-7 minutes on each side or until chicken is cooked through.
Tips
For more inspiration by Monika Hibbs, visit her Instgram profile @monikahibbs
Learn more about