Highlights
Canadian food banks help over 850,000 people each month, depending on large-scale donations from food producers for most perishable goods
Canadian dairy farmers provide high volumes of nutrient-rich milk and dairy products to food banks year-round
Over 1 million litres of milk were donated to food banks across the country in 2017 alone
Our commitment to support our community extends beyond just our farmers and partners. It is ingrained in our values as Canadians, to help foster and strengthen our extended family across the country. From the smallest rural areas, to the largest urban centres, we believe every Canadian has a right to access the food they need for themselves and their families. It's why we make it a yearly priority to donate both food and funds to food banks and agencies all over Canada.
Putting a focus on nutritious food for every Canadian
Over 850,000 Canadians look to food banks each month for aid, whether through accessible groceries or the variety of programs they offer. Their focus is more than simply alleviating food insecurity, but on making sure they can offer healthy and nutritious food options for the communities they serve.
While there's no shortage of publicly organized efforts to collect food for vulnerable Canadians, they're only one piece of a larger puzzle. Non-perishable items are always important staples for food banks, but fresh products, including dairy, are not easily collected through food drives. Moreover, many community-led donation programs are seasonal.
The demand for high volumes of perishable goods puts our Dairy Farmers of Canada (DFC) members in a unique position to make a big, frothy impact in both their local communities and across the country.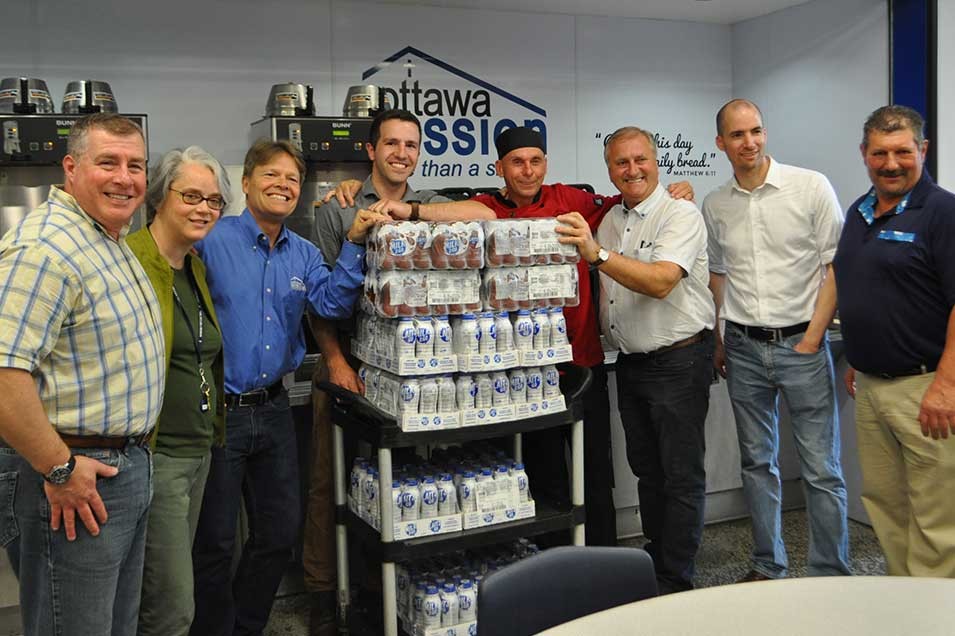 Making a difference one litre at a time
From province to province, our dairy farmers, processors and transporters rally together throughout the year to donate high-quality, nutrient-rich milk and dairy products. These donations aren't surplus stores, but come straight from their farms' regular supply.
Our farmers support hunger alleviation initiatives on all levels, running their own hyper local efforts like donating 100 litres of milk every time the Blue Jays hit a home run in 2016, to ongoing programs and partnerships with provincial food bank networks to make sure they always have dairy available for clients.
The amount of milk that has been donated by our members coast to coast is nearly enough to fill seven Olympic-sized swimming pools with dairy goodness:
$8,000 worth of skim milk powder are donated each year to Feed Nova Scotia by farmers in the province 
10,000,000 litres of milk have been donated by Quebec's dairy farmers since 2003
> 300,000 litres of milk a year have been provided to Winnipeg Harvest from Manitoba's dairy industry
154,000 litres of milk were donated by Saskatchewan farmers to foods banks to and to those in need in 2017
> 56,000 litres of milk were donated by Alberta farmers to provincial food banks in 2017
Pitching in with more than just perishable edibles
As much as it's our bread and (mostly) butter, our contributions don't stop at just dairy. Canadian dairy farmers regularly raise funds to help food agencies fill in the gaps wherever they need it most.
Alberta Milk's Milk and Cookie Shack has become a regular feature at the Calgary Stampede since 2004, raising $177,125 for the Calgary Food Bank. To mark Canada's 150th, dairy processor Gay Lea teamed up with Ontario's dairy farmers to give a $150,000 boost to help Ontario's food banks stock up with butter, cheese, and other dairy products on-demand.
We are only as strong as the communities we serve, and Canada's food banks are an integral building block in growing that strength. DFC and our members are proud to be able to help continuously make a direct impact in our communities, by providing underserved Canadians ready access to the nutrition they need through fresh dairy, and supporting the important programs and research initiatives offered by food banks countrywide.