Stew-pendous: Our favourite hearty stew recipes
Get a stew simmering away and take the chill out of winter days. Rustic veggie, creamy beef, tangy chicken – we've got something on the menu for everyone.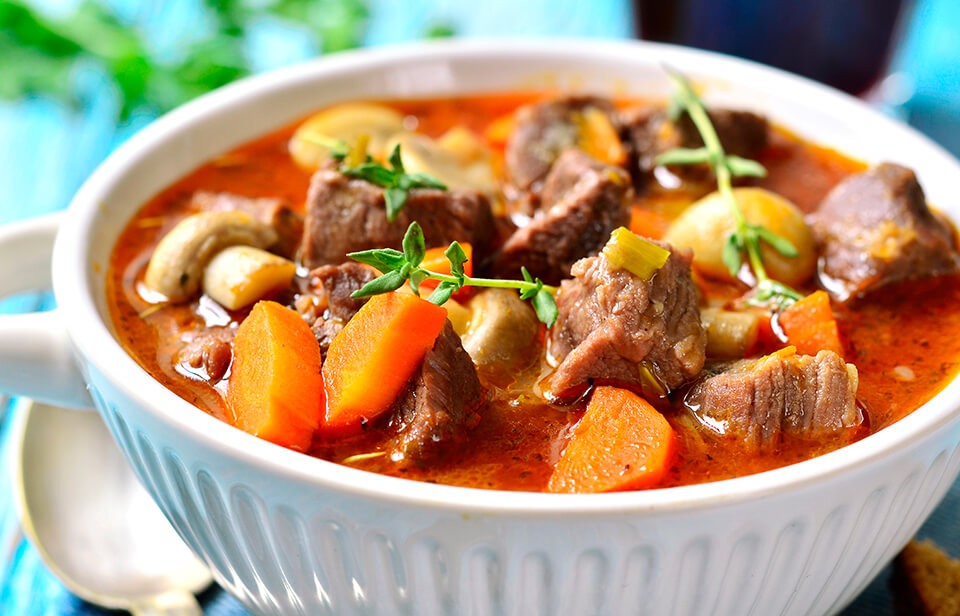 They say that it's what's on the inside that counts, so fill your tummy with the goodness of a comforting stew. Take your pick or try all five on rotation to keep warm all winter long.
1. Rustic veggie chili

Chili is a go-to winter meal that packs a lot of goodness into one bowl. This veggie version features chunks of butternut squash, zucchini, and peppers. Incredibly flavourful and filling (without being spicy), it's a perfect family meal. Top with your favourite shredded cheese, sour cream, yogurt, or chopped avocado if you like. Hearty, nutritious, and simply delicious!

2. Turkey and cider stew with Raclette

Creamy and comforting, this is a stew to savour. It's easier than roasting a turkey and every bit as delicious. Cider adds wonderful flavour and aroma, while Canadian Raclette brings a touch of savoury richness   . You can make this recipe in advance and reheat for an easy meal to warm you up after an afternoon of winter fun. 

3. Irish stew with Havarti

A classic beef stew gets a little cheesier with Canadian Havarti. Let it simmer for a good couple of hours or more until the meat is perfectly tender. Then, add the cheese to make it thick and creamy. Grab a spoon – or fork – and enjoy!

4. Creamy beef and beer carbonnade

Just a quick glance at the ingredients and you'll see why this luxurious stew is so enticing. Red beer not only adds great flavour, but helps make the beef extra tender. Plus, Canadian cream adds richness to the broth. So good, you'll want to double the batch and enjoy it twice!

5. Tangy chicken and vegetable stew

A little sweet, a little tart – and all melt-in-your-mouth wonderful! A touch of zesty lemon and fresh apples are what make this a stand-out stew. With a splash of milk for creamy goodness, this is a delicious yet lighter-tasting alternative to thicker, heartier stews.