Easy ice cream dessert recipes you won't have to bake to enjoy
Give yourself (and that oven!) a rest by whipping up these easy mouth-watering ice cream recipes the next time you're craving something creamy and sweet. Did someone say "dessert and chill?"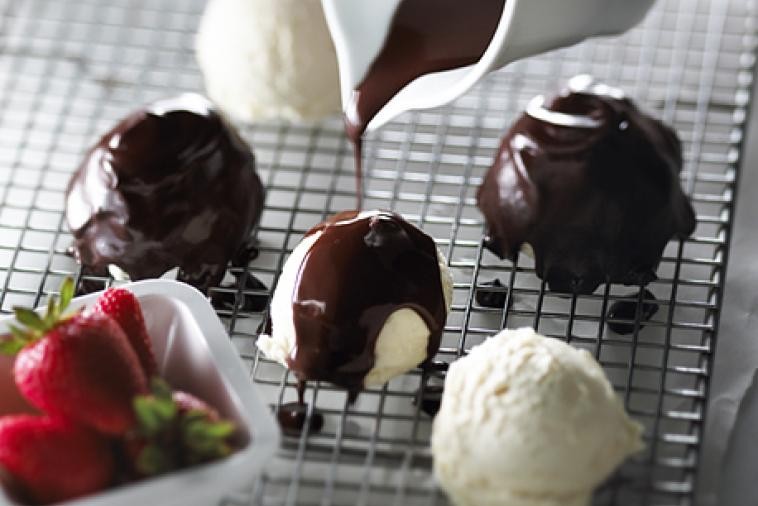 Sometimes, the thought of keeping an eye on the oven for your dessert to bake is enough to make you scrap the idea entirely (let's face it…we don't always have time for that) . With these no-bake easy ice cream dessert recipes, you'll satisfy your craving for creamy Canadian goodness—and the desire to just chill.
1. Frozen banana crème brulée

The thing about crème brulée is that it tastes so delicate and airy, and it's nearly impossible to refuse. This rings doubly true with the addition of banana and caramel ice cream. Topped off with a kiss of the blow torch (or a quick broil if you don't have one), this caramelized beauty of a dessert is the perfect ending to any meal.

2. Giant ice cream truffle

Truffles were once something we had to wait for Valentine's Day to receive. Now, you can finally treat yourself to truffles on your own terms. This frozen twist on boxed chocolates uses a scoop of ice cream as its base, topped with a homemade chocolate and cream sauce that hardens like a shell. Serve with fresh fruit to balance out the flavours.

3. Frozen lemon soufflé

As refreshing as a gulp of lemonade, but infinitely more satisfying, this dreamy dessert combines the aromatic flavours of vanilla with the zestiness of lemon—all in a perfectly pillow texture. This is one soufflé that definitely won't let you down by collapsing before your first bite.

4. Crumble with ice cream and caramelized apples

For apple pie à la mode in a pinch, simply sprinkle granola toasted almonds atop creamy vanilla ice cream and spiced Cortland apples. Getting into the fall spirit—no matter the time of year!—was never so easy, and never tasted so good.

5. Belle Hélène ice cream French toast

We've heard of breakfast for dinner, but breakfast for dessert, and dessert for breakfast? Yes, they're officially a thing, and we couldn't be more excited. If you know how to make French toast, you'll master this decadent upgrade in just a few simple extra steps: melt with crushed chocolate, top with ice cream, freeze, and serve with caramelized pears. Yum!

6. Freeze-ahead lemon parfaits

Hosting a dinner party can be pretty stress-inducing on the day of. Save yourself the hassle by taking care of dessert well in advance, and taking it out of the freezer 15 minutes before you're ready for your guests to dig in. The zesty flavours of grated lemon rind and lemon juice blend beautifully with velvety butter, eggs, and ice cream for a post-meal treat that's utter parfait-ion.