A chef understands the value of high-quality ingredients to make the best food. Which is why we've partnered with two chefs who not only share our passion for creating delicious meals but are also changing the world by making sustainable choices in their cooking. From sourcing local ingredients to minimizing food waste, they are committed to giving back to the earth.
Canadian dairy farmers are also passionate about sustainability. One of the many ways we are helping protect the planet is through regenerative agriculture, which improves soil health and protects water resources and biodiversity.
See how two leading culinary creators and high-quality Canadian dairy products come together in these delicious, zero-waste recipes.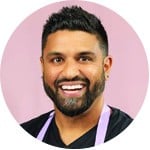 Chef Devan Rajkumar, Canadian TV personality and private chef from Toronto, is committed to promoting sustainability in the kitchen. Chef Devan is on a mission to create food worth celebrating by and is passionate about doing what he can to protect the planet, Chef Devan is a fan of composting, recycling and finding quality ingredients close to home. By composting and recycling each in their own way, Chef Devan and Canadian dairy farmers are working towards a sustainable future.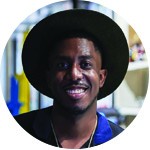 Chef Paul Toussaint, an executive chef and restaurant owner originally from Haiti and now based in Montreal, is as passionate about sustainability efforts as he is about great food. Composting is one of the ways he gives back to the earth. Dairy farmers compost too, (using manure and other organic materials ) as it helps reduce the carbon footprint of milk production and improves soil health. (Video available in French only)
We're all in it together
You don't need to be a professional chef to bring sustainability to your table. Composting your food, recycling your takeout containers and shopping locally are all small steps you can take to reduce your carbon footprint.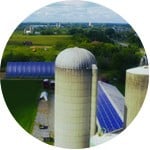 Net Zero by 2050
Canadian dairy farmers are proud to produce milk while taking care of the environment for future generations. And their next goal? Net-zero greenhouse gas emissions by the year 2050!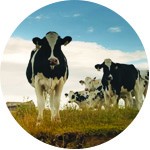 The Smell of Sustainable Fertilizers
Dairy farmers have an abundant of natural odorant fertilizer – manure. Did you know the various ways they store and apply it to the land offer opportunities to reduce their farm's carbon footprint?