7 homemade treats that make the perfect stocking stuffers
There's nothing like baking to get you in the holiday spirit and fill the house with wonderful festive aromas. Not only are these 7 recipes a real treat, they also make the perfect homemade stocking stuffer or hostess gift.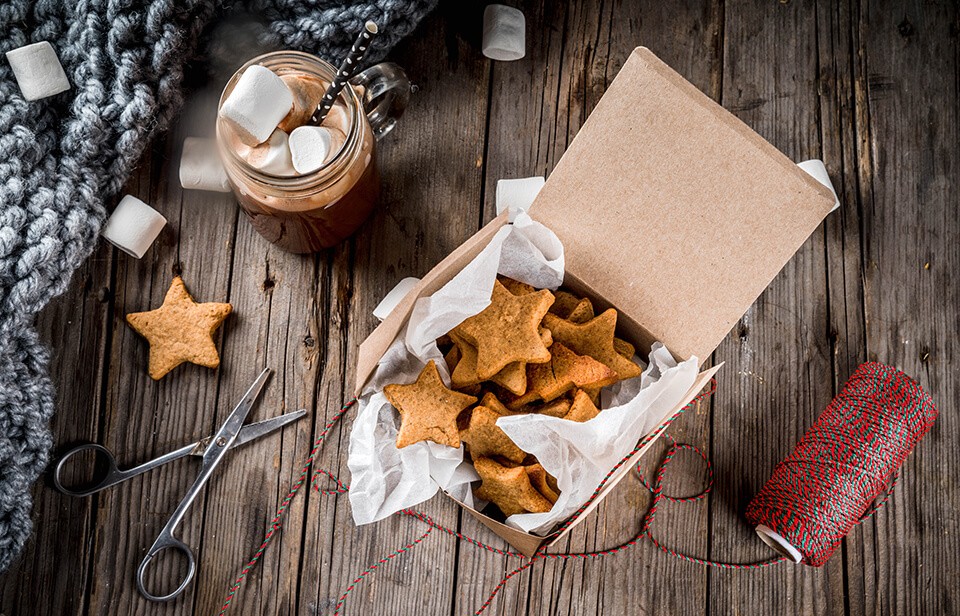 1. Magic cream cheese macaroons

Oh-so pretty to look at, and even yummier to eat, these melt-in-your-mouth macaroons don't require any baking, just a little time to chill (while you relax too). What makes them so good? Softened Canadian Cream cheese, sweetened coconut and of course – chocolate. Poof! A delicious treat is served, just like magic. Share with friends or keep all to yourself!

2. Gingerbread snowflakes with Cheddar

Part cookie, part cracker, all delicious! Holiday spices and ginger add incredible flavour and aroma, but the secret ingredient is Canadian Aged Cheddar. Decorate with a little icing or sugar to sweeten the deal if you wish. No two are alike, which makes them a unique gift anyone on your list will savour.

3. Festive truffle trio

Good things come in threes, and so should rich and delicious truffles. Whip these up in 3 enticingly distinct flavours – Dark chocolate mint, White chocolate and lime, and Milk chocolate with hazelnut – to offer up a treat for any palette preference. These are sure to impress with how picture-perfect they look, and how decadent they taste. Now which one to eat first?

4. Savoury Cheddar shortbread diamonds

Nothing says Christmas like shortbread. These little gems, made with Canadian Old White Cheddar, cut in pretty diamond shapes and topped with sea salt crystals, pair beautifully with a glass of bubbly or wine. Add sophistication to any holiday party or a romantic evening by the fire with someone special – and savour every bite!

5. Chocolate chip toffee squares

Bet you can't eat just one. Toffee bits and chocolate chips make a great combo in this sweet treat that's sure to be irresistible as a gift or at your holiday gathering. Feeling particularly adventurous? Swap regular chocolate chips (or just half) for the white chocolate variety and the toffee bits for your favourite candy bar finely chopped. Whichever way you make them, these squares will be gone before you know it.

6. Cream fudge

Does anything make a better holiday hostess gift than homemade cream fudge? We think not. Luxurious Canadian cream and light brown sugar's lovely molasses-tinged flavour make this noteworthy recipe simply irresistible. Add nuts for a little savoury crunch to balance the sweetness. This may just become your go-to holiday treat.

7. Favourite brownies

Everyone loves brownies and these ones are a fan favourite. Skip the mix and make your own with a bit of cocoa powder and just a few household staples like butter and eggs. With just a few minutes of prep time and 25 minutes in the oven, they'll be ready fast – and disappear even faster! Making them is simple. The hard part is resisting the urge to eat them all yourself.
Mix and match these recipes to create delicious gifts your friends and family will devour. Just don't forget to stuff some in your own stocking – the best part of Christmas baking.
Looking for more gift ideas that have that personal touch? Check out these 5 tips for sustainable gift giving.