7 lucky foods to eat on New Year's Day
Wishing for luck in the New Year? Look no further than these mouth-watering dishes that work like a lucky charm.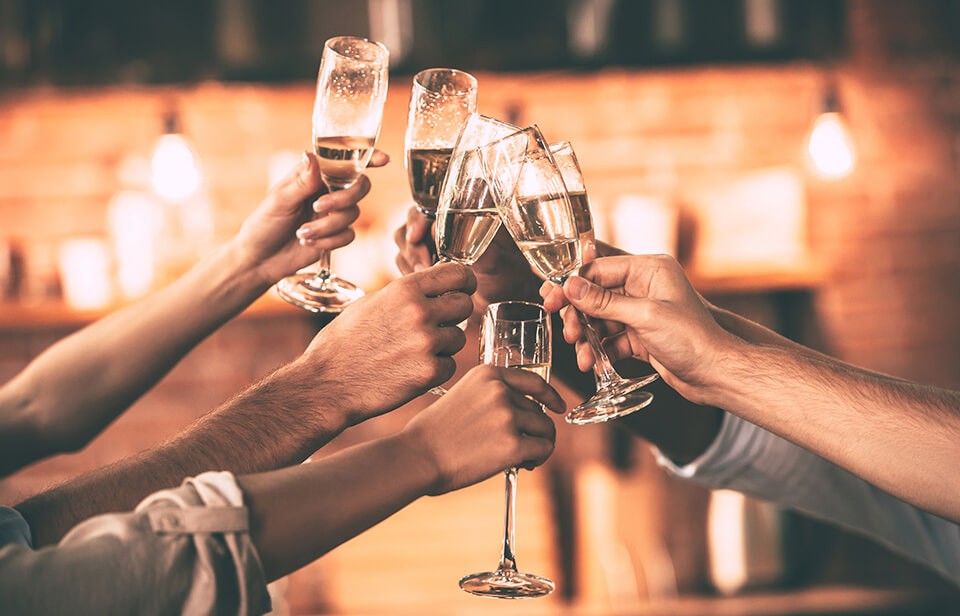 We all make New Year's resolutions, but why not push your luck even further with foods that bring about good fortune? As luck would have it, these seven recipes that feature fortuitous foods happen to be delicious too.
1. Pork for progress: Classic pork with apples

To live long, and most importantly, prosper this New Year's Eve, tuck into any variation of pork. Pig is said to represent wealth and progress in Eastern Europe, thanks to its rotund shape and pushed-out nose which symbolize progress and moving forward. In this winter-friendly dish that's all about blending contrasting flavours, ground pepper, paprika, and Dijon add a kick to buttery pork chops and apples simmering in a milky-smooth cider sauce. For apples that retain their crunchy texture under heat, opt for Empire or Cortland varieties.

2. Grapes for good luck: Grape, gouda and arugula skewers

On their own, arugula and grapes make for a refreshing and winning combination. But string them together on a toothpick with luscious Canadian Gouda, and they suddenly take on an even more festive quality. In this delightful canapé, the grapes' juices add sweetness to complement creamy Canadian Gouda, while arugula leaves balance out the bite with a subtle earthiness. Even more of an incentive to chow down this New Year's Eve: in Mexico and Spain, eating 12 grapes (that means 12 servings of this recipe!) represents good luck, while in the Southern United States, arugula's green hue represents money and prosperity.

3. Rice noodles for longevity: Tasty Thai chicken and noodles

Thai cuisine is famous for its tangy and succulent sauces that coat fresh and simple ingredients like rice noodles. While they're a year-round favourite, long rice noodles are especially celebrated on New Year's Eve for their ability to promise a long life when eaten uncut. In this dish, noodles are mixed with stir-fried chicken and veggies whose flavours come alive with ginger, and then doused with a smooth milk and coconut sauce. For the perfect finish, top with bean sprouts or coriander. Just your luck: There's no need to book a ticket to Bangkok when home-cooking tastes this good.

4. Lentils for prosperity: Gouda and lentil soup

Brazilians and Italians have the right idea: they devour golden coin-shaped lentils on New Year's Eve to boost their fortunes. When the weather outside is frightful (or when you simply need an impressive first course to feed your New Year's Eve guests!), look no further than this rich and hearty lentil soup peppered with greens and sweet potato, and finished off with velvety shredded Canadian Gouda. The unique cheese's smoky aftertaste is perfectly evocative of cosy winter nights by the fireplace—and what's lentil soup if not the culinary embodiment of a warm and welcoming fireplace?

5. Pomegranate for good fortune: Roasted winter squash, lentil, and greens salad

In Greek culture, pomegranates are thrown on the ground—the more seeds it contains, the more luck you'll have. In Turkey, pomegranates are a reflection of fertility since they represent human life or a human heart. Here, you know your New Year is off to a good start when you get to turn back the clock with tantalizing autumnal ingredients like pomegranate, butternut squash, and pumpkin seeds—even when your street has turned into Mother Nature's skating rink. They say you can't make friends with salad, but with this many exciting flavours happening all at once, you might just become the most popular home cook on the ice-lined block.

6. Fish for abundance and wealth: White fish and Cheddar tacos

Get lucky with these crowd-pleasing tacos that get even the pickiest eaters hooked on fish. From their scales representing coins or wealth, to their movement in schools representing power and progress, fish's lucky properties on New Year's Eve are wide-ranging according to Chinese tradition. Thanks to creamy and cool Greek yogurt and Canadian Cheddar cheese toppings, your choice of neutral-tasting fish varieties like cod, haddock, and halibut, have never looked—and tasted—better. To up the fiesta factor even more, be sure to serve with a unique take on salsa featuring red cabbage, corn, and red pepper.

7. Ring-shaped cakes and foods for luck: Mayan chocolate Bundt cake

Ring in the New Year the right way, with a moist and chocolatey ring-shaped cake that'll start you off on a sweet note. No matter how you slice it, this Bundt cake—like all round treats consumed on New Year's Eve as seen in many traditions all around the world—is said to promise a full round of good luck. What separates this cake from the dessert pack is that on top of traditional baking ingredients like milk, butter, and cocoa, you've got spices like cayenne, cinnamon, and nutmeg making this Mayan-inspired dessert an unforgettable sliver of your New Year's celebration.