Hearty soup recipes to warm you from the inside out
There are few foods that cross off every box like soup does. It's savoury and delicious, blends unique flavours together in one big hearty batch, and warms you up when the weather outside is frightful.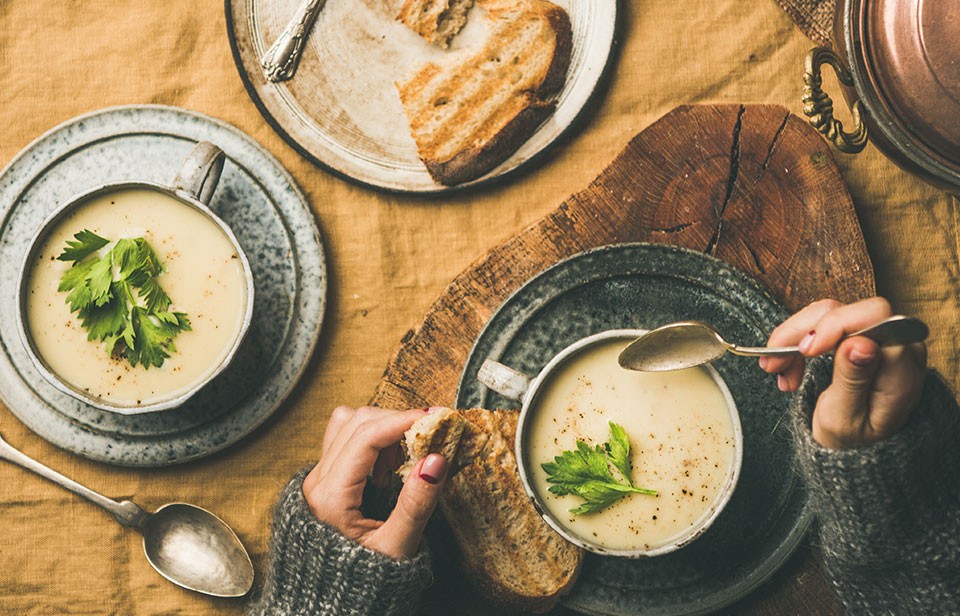 Soup season is officially here. What better way to celebrate than to treat yourself (and your guests!) to a soup full of Canadian goodness that's basically a blanket in a bowl? From creamy and comforting, to zesty and aromatic, you'll want to spend your winter sipping and slurping your way down this soup list.
1. Cream of carrots with Brie & nuts

Puréed carrots and Canadian milk make this a smooth, sweet, and savoury velouté. Just a drop of honey and a touch of garlic will ensure every spoonful is delightful.    Top with creamy Canadian Brie and crunchy nuts, and you're golden—just like this soup's beautiful hue.

2. Roasted red pepper & parsnip soup

In this stunning soup, sweet and savoury flavours are expertly combined. Roasted parsnip and pepper tossed in maple syrup are perfectly puréed into a creamy base. Top with buttery sautéed mushrooms and beautiful crumbled Canadian Blue for unforgettable flavour.  

3. Cream of onion soup with cheese crostini

This comforting and Canadian take on French onion soup is as crowd-pleasing as it gets! What could be better than a creamy caramelized onion broth? Only one thing:    dipping a crispy baguette with melted Canadian Swiss into that warm oniony goodness. 

4. Easy cauliflower and Cheddar soup

It's no secret that cauliflower is a winner in every way: it seamlessly absorbs and enhances flavours surrounding it, and when cooked, blends easily into a smooth, velvety purée. Add a pinch of ground nutmeg and loads of Canadian Cheddar to earn this dish the title of Ideal Winter Soup for Every Occasion.

5. Cream of corn and white beans with polenta croutons

The easiest (and most surprising!) way to elevate any dish is to transform the idea of a crouton. Here, cheesy homemade polenta cubes add a hearty layer to a jam-packed broth featuring corn and white beans.    Top it off with crunchy diced red bell pepper to play with taste and texture.

6. Acorn squash potage with tomato & Le Mamirolle Cheese

With acorn squash's subtle, earthy flavor, this soup is ideal for lazy, winter nights when you need something delicious to whip up in a pinch. Thanks to tomato paste and Le Mamirolle cheese (or Canadian Havarti) infused into the mix, this potage is as cozy as it gets.

7. Cream of celeriac with Cheddar & onion

Ever had a soup so good you wondered if it was possible to make an endless vat of it so you could dip into it any time you needed to lift your spirits? Consider this soup the answer to dinner no matter your cravings. Celeriac, a funny-looking but oh-so delicious root vegetable (it tastes fresh and nutty – try it!) is the star player in this creamy soup. Add a baguette crouton topped with sharp Canadian Cheddar and caramelized onions to ravish the eyes – and taste buds.