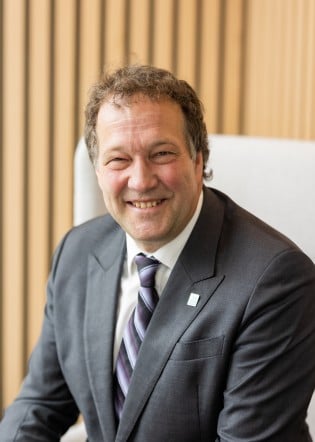 Pierre Lampron
President
Pierre Lampron is President of Dairy Farmers of Canada and has been a dairy farmer since 1987, in Mauricie, Quebec.
With his brothers and his son, he owns an organic dairy farm with 200 cows and 1,200 acres of crops. For more than a year, the Lampron farm has also been distributing their organic milk in glass bottles in several locations in Quebec.
He was first elected to the Board of Directors of the Producteurs de lait du Quebec in 2000 and was appointed to the Board of Directors of Dairy Farmers of Canada in 2007.
At the national level, Pierre led proAction's animal care committee since its establishment and has participated in the DFC promotion committee. In addition, he served as a member of the Canadian Animal Health Coalition executive committee and on the board of the National Farmed Animal Health and Welfare Council.
Pierre also served as president of Valacta from 2013 until that organization became Lactanet in 2019.  He now serves on Lactanet's board of directors.
As a leader, Pierre believes that by working together, dairy farmers can be more successful in reaching their goals and advancing their cause. Pierre climbed Mount Kilimanjaro on behalf of DFC in February 2017 and, in association with the Tim Horton Children Foundation, helped raised more than $500,000.
Pierre and his wife Annick have three children and one grandchild.
Pierre was elected President of Dairy Farmers of Canada in 2017 and was re-elected for a second term in 2019 and a third term in July 2021.