DFC's Nutrition Québec team honoured
The Nutrition Québec team of Dairy Farmers of Canada was honoured with the Professional Publication prize by the ODNQ for its project Papille, Guide sur l'alimentation du poupon à l'intention des services de garde éducatifs à l'enfance du Québec (Guide on infant nutrition for educational childcare services in Quebec)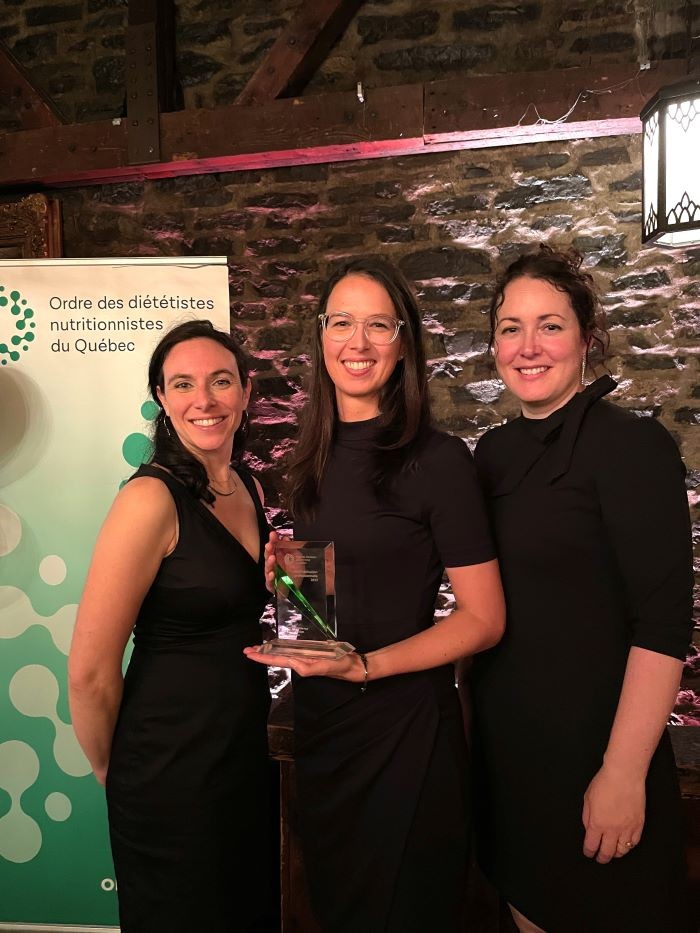 Montreal, October 20, 2023 – The Nutrition Québec team of Dairy Farmers of Canada (DFC) was honoured with the Professional Publication prize by the Ordre des diététistes-nutritionnistes du Québec (College of Dietitians-Nutritionists of Quebec) (ODNQ) for its project Papille, Guide sur l'alimentation du poupon à l'intention des services de garde éducatifs à l'enfance du Québec (Guide on infant nutrition for educational childcare services in Quebec). The announcement was made October 19 as part of the ODNQ "Prizes and Distinctions" gala held in Montreal.
"We are honoured to have been selected for this prestigious award. It recognizes the hard work of a team which strives to provide professionals and the early childhood community with stimulating tools and educational resources of exceptional quality to create healthy eating habits from a young age," said David Wiens, president of DFC.
Developed in collaboration with the team Saine alimentation of the Association québécoise des centres de la petite enfance (Quebec Association of Early Childhood Centres) (AQCPE), Papille is the very first guide on feeding infants aged 0 to 24 months for educational childcare service settings. Based on the most recent scientific data, it brings together, under one heading, the answers to the many questions that early childhood professionals ask about infant nutrition.
The Professional Publication prize rewards one or more members of the ODNQ for the excellence, relevance and influence of a nutrition publication intended for ODNQ members and other health professionals.
- 30 -
About Dairy Farmers of Canada
Dairy Farmers of Canada is the national organization representing Canadian dairy producers. DFC strives to create stable conditions for the dairy sector in our country. It also seeks to maintain policies that promote the sustainability of Canadian dairy production. Dairy farmers have set a goal of net-zero emissions from farm-level dairy production by 2050.
Media Contact
Lucie Boileau, Director of Communications,
Dairy Farmers of Canada
[email protected] / 613-220-1724