10 must-have recipes for the yummiest cookies
Try these festive and flavourful recipes that'll surely win you the Chef of the Year award among your friends and family.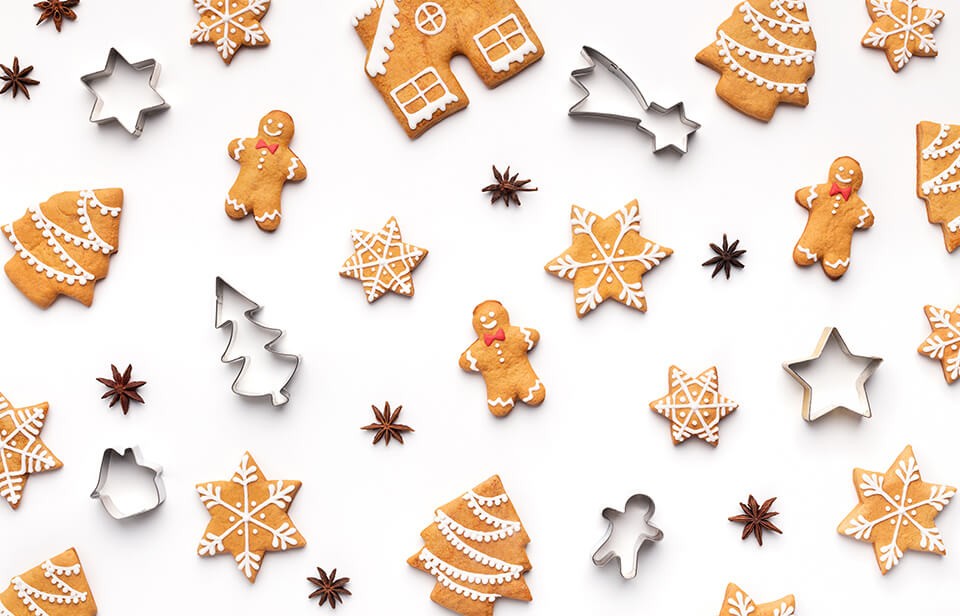 With these flavourful recipes, be confident that your cookies will totally win over the hearts—and palates—of your family and friends. You can't go wrong with these:
1. Almond diamond cookies

The subtle zest of orange rind blended with smooth and creamy butter offers a delicious contrast against crunchy almond slivers. Perfect for enjoying as a post-dinner cookie or a mid-afternoon snack, think of this recipe as a diamond in the rough.

2. Decadent cookies

Technically all cookies can be decadent if you look closely, but this recipe really takes the cake (or cookie) since it combines two types of chocolate, chopped walnuts, brown sugar, and butter to yield a soft and chewy snack that's as much about the perfect texture as it is about the taste.

3. Gingerbread butter cookies

It's time to whip out the cookie cutters—you're in for a real treat! This festive cookie features all the flavours we look forward to come the holiday season and looks awesome doing so under candy-dotted icing designs.

4. Chocolate button cookies

For all those occasions you have a tough (and hungry!) crowd to please, you can't go wrong with delectable, bite-sized cookies with a hint of vanilla flavour. Dipped in a semi-sweet chocolate coating, they're seriously cute as a button.

5. Festive butter cookies

All decked out in red, green, and white icing, you'll be tempted to leave these buttery smooth shortbread cookies out on display. Although, they'd be easier to use as holiday adornments if they weren't so delicious! Just be sure to decorate your home with ornaments of the non-edible kind too, to keep around some holiday cheer when these disappear.

6. Cream Cheese chocolate cookies

Macarons are a hot trend in the dessert world, while cheesecake has been a classic delicacy for a while. Merge the two with this unique delight that sandwiches Cream cheese icing between two "slices" of chocolate cookie kissed with a dash of sugar.

7. Cinnamon snickerdoodles

Ever wondered what could make a classic snickerdoodle better? We think nut. Soft, chewy, and cinnamon-dusted, these cookies are perfect with a crunchy almond on top. Plus, snickerdoodles are as fun to say as they are to bake and eat.

8. Chocolate hazelnut crumb cookie bars

Aren't you thankful to live in a world where a cookie and bar hybrid like this exists? With a good helping of cocoa incorporated into the dough, and chopped hazelnuts or almonds adding a much-needed crunch on top, there's no box this recipe doesn't tick off. The key, however, is to toast or bake those nuts to bring out those deeper smoky flavours.

9. Gingerbread people

You can't have a gingerbread house without citizens to inhabit it. Luckily, these folks aren't just for show: made with butter, wintery spices, and molasses, you'll find yourself gobbling them up before you even get a chance to show them off.

10. Chocolate hazelnut butter crisps

The thing about butter cookies is that they strike the perfect balance of chewy and crispy, making for a drool-worthy dessert no matter your guests' tastes. Plus, this recipe adds tasty hazelnuts to the mix. Dip in chocolate and sprinkle with icing sugar for a perfect finish. Everyone will be nuts about these!