Grill & chill: 6 backyard BBQ recipe ideas
Grilling your food adds that signature flavour you just can't get any other way. Give your oven a break and crank up the flavour. You'll be stuck on these delicious BBQ recipes whether or not you're into hot sticky weather.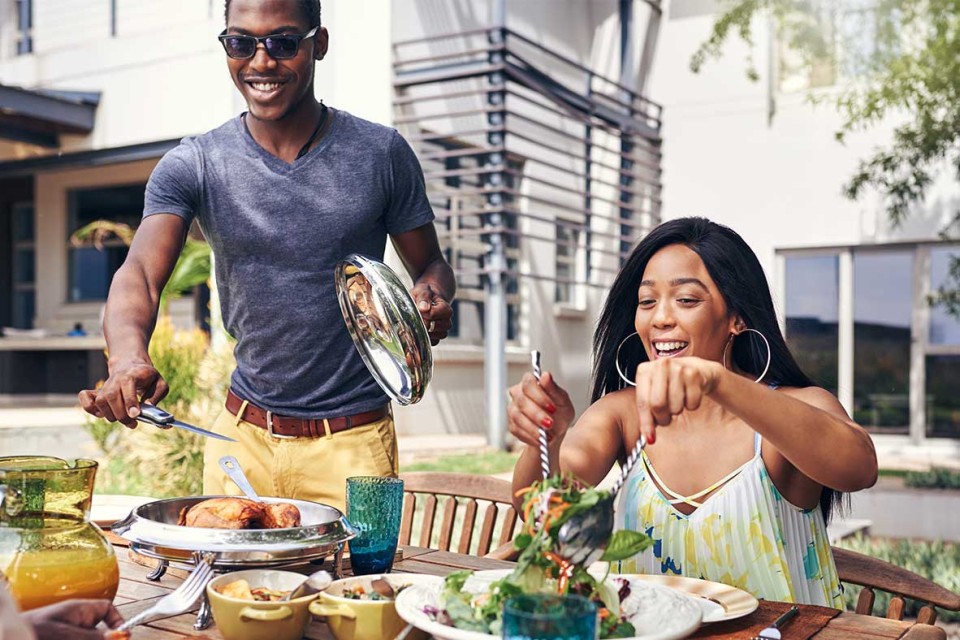 First things first, there's no time like the present to get your BBQ in gear. Consider this your friendly reminder to not overlook BBQ spring cleaning (better late than never!). After clearing out the spider webs, scrubbing the grill grate, and cleaning out the grease trap, be sure to checks for leaky parts. Safety first and you also just want to make sure your grill is at its best. Just remember, your reward will be delicious fare. Now onto the recipes – all the incentive you need to kick off this grill season.
1. Tasty BBQ tandoori chicken with a twist

If you love tandoori dishes and sweet pico de gallo, you'll enjoy this unbeatable combo. We recommend letting the yogurt marinade work its magic overnight, to make the meat ultra-tender and extra flavourful. The next day, prep the salsa before putting the meat on grill. That'll let the lime juice soften and flavour the onions. When the meat is ready, top the chicken with the peach pico for the more adventurous souls, or serve on the side for the more cautious spirits.

2. Grilled shrimp Caesar salad

Is there anything better than homemade Caesar salad? Only the homemade BBQ version with tasty grilled shrimp. Whip up a classic Caesar dressing from scratch (try it once and you'll never resort to store-bought again, it's that easy), then pop the romaine hearts (cut in half) and lemon-coated shrimp on the grill for a quick cook. Top the lettuce halves with dressing, croutons, and beautiful slivers of Canadian Parmesan, and watch this dish disappear almost as quickly as it is served. 

3. Grilled Halloumi, heirloom cherry tomato, and peach salad

There's something about cherry tomatoes and peaches that just screams summer, so make the most of this season and try this recipe. Peppery arugula lays the foundation for this salad. Our favourite part? Savoury Canadian Halloumi coated in a lemon-and-herb dressing before hitting the grill. You'll wish you'd known about marinating cheese sooner.

4. Jerk pork sliders with fresh Mozzarella

Satisfy your BBQ cravings with mini burgers dressed to the nines. Picture sliced barbecued pork loin with a simple jerk dry rub, topped with melted Mozzarella, sliced cantaloupe, and a smear of relish. We recommend this recipe for sweet-savoury flavour lovers – or anyone who wants a definite backyard BBQ success.

5. Cheesy paella with grilled peppers

If you haven't already, you'll want to add paella on the grill to your summer bucket list. Hint: Smokey flavours are just the beginning. In this recipe, you'll find classic paella ingredients like bell peppers, shrimp, and onion. But instead of saffron, green tea lends its subtle floral aroma, giving this dish a pleasing flavour that'll keep your guests wanting more. Top with Canadian Monterey Jack just before serving to get it deliciously melty around the edges.

6. Grilled bananas and Paneer with dulce de leche

Imagine grilled bananas (brushed with butter!) with BBQ-seared Paneer, all drizzled with a homemade dulce de leche – need we say more? This treat has the perfect ratio of sweet to salty, plus fruit to boot. It's the top banana if there ever was one and you can top it with a scoop of ice cream if you like. Just be sure to save space for dessert when this recipe is on the menu.
Still hungry for more BBQ inspiration? We've got you covered. Check out our recipe collection with all kinds of BBQ goodness, including cheesy stuffed jalapenos and Cheddar and garlic roasted potatoes. If only summer could last forever!